Daniel Ndambuki famously known as Churchill found himself in a tricky situation on Sunday evening when his action of hosting Kanyari on his show led to negative comments of Faith. From journalists, producers to news anchors the comments that followed his show were not so pleasant after he publicly stated that he celebrates Pastor Kanyari.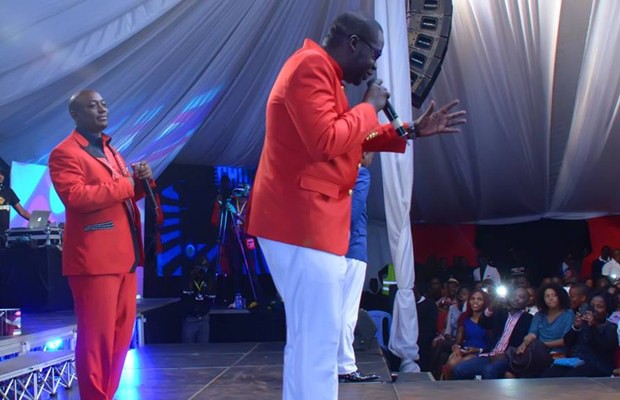 Kanyari on the show revealed that he is a false prophet who is out there to take money from people who are desperately looking for a new opportunities that are wealth related.
He even stated that he doesn't pray for people to go to Heaven as his purpose is purely money related.
With this said, Kanyari took his comments a notch higher by stating that his purpose is all about money, inspired by the book of Malachi 3:10 which he renamed to seed money of 310 shillings.
This what Kenyans said :
I am disappointed that we glorifying the likes of Kanyari on such family shows like Churchill. This has broken my heart.

— SokoAnalyst (@SokoAnalyst) March 29, 2015
But Kanyari on Churchill… Questionable Endorsement Really!!

— Grace S Msalame (@GraceMsalame) March 29, 2015
I am totally disappointed in you today, You Celebrating Kanyari of all the people?? God is watching you. @MwalimChurchill cc @ntvkenya

— Wisley Mosoti Mokua (@MokuaWisley) March 29, 2015
This is so sad! Kanyari!!! #ChurchillShow — Dj Johni Celeb (@DeejayCeleb) March 29, 2015
#churchillshow my spirit grieves for what you just aired.God cannot be mocked, be careful how you use the platform God has entrusted to you.

— Kendi Ashitiva (@KendiAshitiva) March 29, 2015
Dear @MwalimChurchill ,Kanyari is not interested in the word of God and is against the kingdom of heaven.Why did u host him? — Tender Ooko (@BoyTender) March 29, 2015
Total mockery to God! In my opinion Kanyari is an atheist coz no one who believes in the Almighty God would dare do somethings.

— Pauline Njoroge (@paulinenjoroge) March 29, 2015
@MwalimChurchill I am rather disappointed by your show tonight, parading Kanyari like he is a role model #ChurchillShow — ben muiruri (@lbenten) March 29, 2015
When comedy degenerates to Mocking God on #churchillshow surely we are doomed @MohaJichoPevu

— Sam (@WaguraSam) March 29, 2015
@ulizalinks @MwalimChurchill @JessyTheMC I totally agree. Am totally disappointed.

— Alex Mwakideu (@Alex_Mwakideu) March 29, 2015
@MwalimChurchill We can take being called names but we cannot take God being mocked. #KanyariIsAShame #churchillshow

— Maina Wambui (@patmaichbmf) March 29, 2015
Walai Mungu hachezewi hivyo Calamity will fall upon you Kanyari #ChurchillShow

— Zagga Stulla (@ZaggaStulla__) March 29, 2015
Wow just got onto social media & this has not been a good week for #churchillshow has it

— Waihiga Mwaura (@WaihigaMwaura) March 29, 2015
#ChurchillShow to interview Kanyari is a mockery of righteousness and is absolutely disturbing to watch. It has put ur show in total denial

— The Spirit Within™ (@dhanjes) March 29, 2015