When it comes to ministry you have to go out to the world that is all the nations and preach the word and Baptize men in the name of father son and Holy spirit. This is the mandate that is given to all gospel ministers or disciples once he/she is born again and has committed his or her life to Christ.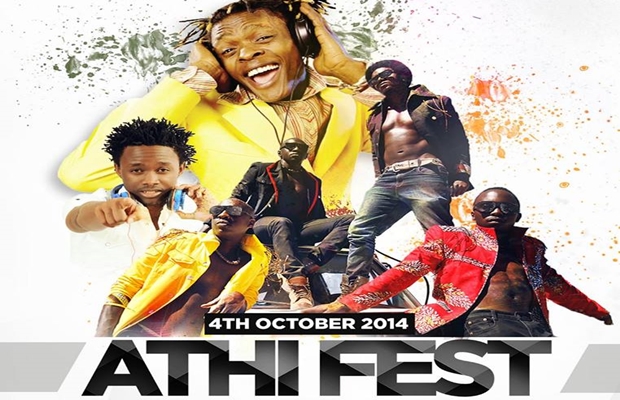 Now does this also apply to gospel artistes ? When a "secular" company invites you for an event what is the best thing to do ? Should you ignore as you try to reach out to certain audience ? or music ministry  doesn't have boundaries so we need to just go where we are called to as long as in the end we push our main message of the gospel.
Why do I ask all these questions? This is because our boy Bahati has been shortlisted in a charity event that is called Athi Fest which will feature more secular artistes with him being the only gospel artiste. The event is set to feature the likes of Sauti Sol , Chameleone , Dj Joe Mfalme , Mzazi Willy Tuva and Bahati him self.
Once Bahati posted on his official page a number of his followers didn't receive it well saying that probably he is going to the wrong side of music. What do you think?
Should a gospel artiste be limited to a certain event only or can one perform even in a non-gospel event as it all but ministry and we should reach all souls but not the selected few?
Should we walk the Jesus way where he said he came to save the lost and not the righteous ?
Here are some of the comments :
Semeiyian Semeiyan bahati u will start loosing it like esther wahome can u stick to one side an u will see God really taking u to levels……..pple like emmy kosgei,kambua,unice njeri,mercy have gone that far coz of doing all things to glorify GOD.
JhonDalamea McLubengo Bahati i always liking this of all the young Gospel artists u always the chosen one hiyo ni God,bt ata kama ,dnt forget wea u came from
Ngina Gaitho #partyforcharity; Bahati I support you 100% but in some of the concerts they don't suit you.seriously bahati pray harder not to fall in to world temptations. mamas words,,,"mwanangu unaweza lolote ukinjikaza utaenda popote" if you don't forget about #KEVIN_BAHATI on #SIKU_ya_KWANZA
Annex AJit its upon u mtoto wa mama kuchse wats right 4 ua self nd most of all wat God wantx from u…btw, Jesus came to save the sinners nt the rightious,u r right to represent God among them…
Josphine Kawira the bible says blessing is to the one who doesn't seat on the place of bad pple,, am not saying their bad but they live in there own world u don't belong there #bahati.
one more thing if u walk with a thief u will become one too with bad pple u will too en u maybe a good boy but u won't be able to resist