Deputy President William Ruto was among  other government officials on Tuesday morning at the Jomo Kenyatta International Airport to welcome home the Kenyan athletes from Beijing,China.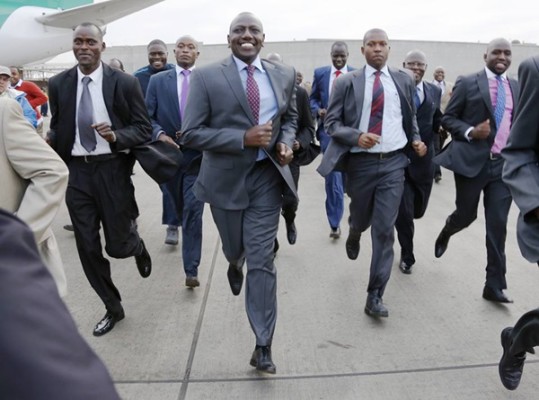 Among those who arrived back were 3,000m gold medalist Ezekiel Kemboi, Javelin gold Medalist Julius Yego and 400m hurdles gold medalist Nicholas Bett.
Taking to his strides the DP run alongside the other government officials to embrace the athletes as they embarked from the airplane that had boarded.
Also giving the Kenyan team a heroes welcome was Senator Mike Sonko whose motorcade consisting of Audi Q7 limos, Hummers and several gold-plated Mercedes Benz cars with  a fleet of 100 out rides on motor bikes  accompanied the Senator's entourage to the airport.
On his twitter account Sonko tweeted that plans are underway in preparation for a feast which will held in honor of the Kenyan team that emerged at top of the world in the IAAF  World Championships in Beijing,China.
"I am preparing a national feast where I will slaughter 10 bulls,50 goats,300 fish and 500 ingokho and ducks in celebration of our athletes," his tweet read.
The team which is expected to be hosted by President Uhuru Kenyatta at State House next week on Tuesday, attributed their success to work hard and prayers from the entire nation.