Lessons from Money Mayweather:

Every year for at least the last five years, Floyd Mayweather has been the highest paid athlete in the world. He earned around $105 million in 2014 alone. That was $25 million more than the second highest paid athlete in the world, Cristiano Ronaldo. And perhaps what's most impressive is that Floyd earned $105 million without a single meaningful endorsement deal. Of the $80 million that Ronaldo earned to be the world's second highest paid athlete, 40% came from endorsements. But what's probably most impressive about Floyd's rise to absolute financial dominance in the sports world is the fact that none of it ever would have happened without one very simple, yet VERY risky gamble back in 2006.
Between 1996 and 2006, Floyd was represented by Bob Arum's Top Rank Boxing promotional company. In boxing, when you are signed with a promoter, you are basically an employee. You are offered a set amount of money to appear at a fight. The promoter puts up all the money and takes on all the risks to organize the fight. By taking on the risk, the promoter also reaps the biggest rewards. Whatever profits are left over after costs are paid off (including the cost to pay the fighters), would go straight to Bob Arum's pockets. That's how Bob Arum is worth $200 million today.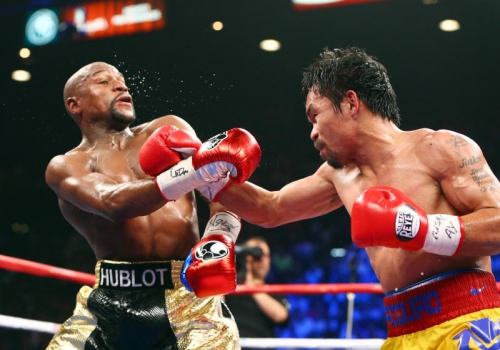 Having a promoter isn't necessarily a bad deal for a fighter. It's guaranteed money in your pocket with no risk at all. The only thing a fighter has to worry about is training and winning. Most boxers today work with a promoter. Even Manny Pacquiao. Guess who promotes Manny? Bob Arum.
Back in April 2006, Bob Arum offered Floyd $8 million to fight Antonio Margarito. It would have been double Floyd's previous highest purse. Instead of accepting, Floyd countered by saying he wanted $20 million to fight Oscar De La Hoya. Arum was stunned. Arum also didn't think that amount of money for Floyd to fight Oscar would pay off. So he declined and kept pushing the Margarito bout.
At this point, Floyd made the ultimate gamble. After spending 10 years working under Top rank, Floyd had the right to buy himself out of his contract to become a free agent. It wasn't a cheap proposition. In order to break free of Top Rank, Floyd had to pay Bob Arum $750,000.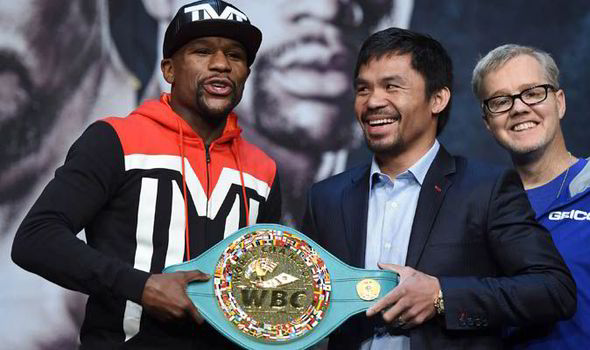 It was a huge risk. What if he lost his next match? What if he got hurt and couldn't ever fight again? At the time, Floyd's total net worth didn't quite crack $5 million. A lot of money for mere mortals, but clearly not a lot for someone who changed his middle name to "Money."
So how did this gamble work out? Well, in November 2006, Floyd ended up earning $8 million to fight Carlos Baldomir. The win drummed up enough attention and hype to warrant a fight against Oscar De La Hoya. That fight took place in May 2007. Remember how Floyd wanted $20 million and Bob Arum thought he was crazy? He ended up earning $25 million on what became the highest revenue-producing fight in boxing history up to that point.
From that point on, Floyd really started raking in serious money. In 2013, he got his own promoter's license from the Nevada Gaming Commission. That allowed him to launch Mayweather Promotions and become his own boss.
Today Floyd puts on every aspect of his own fights. That means he fronts all the money for an event, including his opponent's purse. When he fought Saul Alvarez in September 2013, Floyd cut him a $10 million check from his personal checking account weeks before the fight. Floyd also paid tens of millions of his own money to pay for the event space, the vendors, the food, beverages etc. That's the downside. The upside is when the fight was over, Floyd got the lion's share of profits. In the Alvarez fight, that meant Floyd walked away with $75 million.
The same math is basically true with the Manny Pacquiao fight. Floyd fronted most of the costs to organize the event and cut Manny a $50 million guaranteed check to show up. By the end of the night, Floyd got 60% of the profits. Normally he would have had100%, but he had to make some concessions to get Manny to show up. But even with "just" 60% of the profit share, Floyd earned $150 – $200 million from this one fight alone.
Floyd's career earnings are up to $610 million now . For comparison, prior to 2006 when he was still working under Bob Arum, Floyd's total career earnings were less than $10 million. And to think, none of this would have been possible if Floyd didn't have the foresight and guts back in 2006 to buy himself out of his contract for $750,000.
So what's the lesson here? Well, as with any business venture, if you want to get really really really rich, you can't be under someone. You need to be an owner!