Archbishop Emeritus Desmond Tutu is  known for being a prominent human rights advocate, religious leader, and nonviolent protester of apartheid. And as one of the most recognized names in South Africa today, it is worth knowing a bit more about his life to fully understand "The Arch."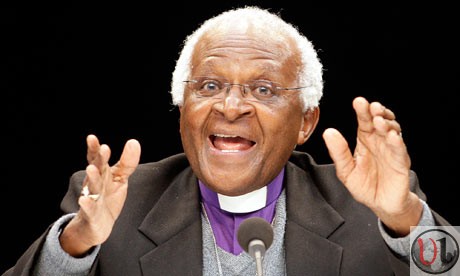 1.Tutu has been nicknamed "The Arch"
Just to clear up that last bit.
2. Like his father, Tutu was a schoolteacher from 1954-1957
After studying at the Pretoria Bantu Normal College from 1951 to 1953, he moved to Johannesburg to teach at the Johannesburg Bantu High School and Munsienville High School in Mogale City. He had originally wanted to be a doctor, but his family couldn't afford the schooling, so he followed in his father's footsteps.
3. Tutu resigned his teaching post after the passage of the Bantu Education Act
This turned many aspects of apartheid into written law, especially with regard to education. The biggest component of the act enforced racially segregated educational facilities, diminishing the educational prospects for black South Africans. In protest, Tutu resigned his position and shifted his focus to speak more directly to issues of discrimination and inequality in South Africa.
4. From 1986 to 1996, he served as the first black Archbishop of Cape Town
While this bit is well known, it isn't necessarily common knowledge that this meant he was the head of the Anglican Church not only in South Africa, but also in Botswana, Namibia, Swaziland, and Lesotho. This established Tutu as a leader in his own country, as well as the surrounding region, allowing him to become a major voice and leader for all of Southern Africa.
5. Tutu gets credit for the term "Rainbow Nation"
Used to describe post-apartheid South Africa, Rainbow Nation reflects the ethnic diversity and racial acceptance that has become ingrained in the political (and hopefully societal) culture in the country. It's become a part of mainstream language across the world, and is even reflected in the nation's colorful flag.
6. In 1998, he was diagnosed with prostate cancer
Fortunately, he was underwent successful treatment in the U.S. and went into full remission. This also shaped his activities on the world stage, as he became an advocate for health causes and access to health care, especially with regard to cancer-related diseases and HIV/AIDS.
7. He appeared in an Off Broadway play in New York
In October 2004, Tutu busted out his acting chops to play Lord Justice Steyn in "Guantanamo: Honor-bound to Defend Freedom." The play harshly criticized the U.S. detention center in Guantanamo Bay, and Tutu's role was a judge who questioned the legal justification of the facility and American soldiers' known practices there. 
8. He is a member of The Elders
In 2007, Nelson Mandela formed The Elders, a group of "elder statesmen" that would work together on global issues. Along with Mandela and Tutu, other Elders included former US president Jimmy Carter, former UN Secretary General Kofi Annan, and former president of Ireland and UN High Commissioner for Human Rights Mary Robinson. Their first mission was to Darfur in Sudan to advocate for an end to the ongoing genocide there.
9. He wrote a children's book
In December 2012, Tutu released a children's book called "Desmond and the Very Mean Word." Without giving away too much, the plot follows Desmond as he bikes around his neighborhood and is called a mean word by some boys nearby. Rather than fighting back with more insults, he learns that this is not the best way, and he should show compassion even to those that hurt him. It's basically a very thinly veiled metaphor for Tutu's entire approach to his life, if you didn't pick up on that yet.
10. The Desmond Tutu House in Soweto is on a pretty cool street
This is the house that Tutu and his family moved into in 1975, and is one of the only streets in the world where two Nobel Prize winners have lived – Nelson Mandela and Tutu lived several doors down from one another in Soweto. Mandela even spent his first night at Tutu's house after being released from Robben Island in 1990. – See more at: http://afkinsider.com/26347/10-things-didnt-know-desmond-tutu/11/#sthash.EvcPSbzq.dpuf