A man stricken with guilt has returned a 200-year-old bible, 42 years after he stole it from the Holy Trinity Church in Hastings, England.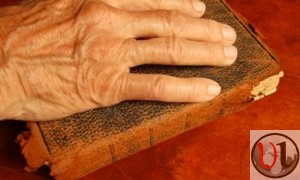 The anonymous man  included a note accompanying the stolen item, confessing his transgression and saying he wanted a clean conscience.The bible was returned in a package, sent from Germany, to church treasurer Simon Scott earlier this week. Accompanying the package was an anonymous, typed note, which explained the story of a retired German man who, in 1971, made the foolish mistake of stealing the large, ornate bible from the Holy Trinity Church.
The man explains in the letter that in 1971, he and his wife, who both spoke German, had just recently married and had decided to take language courses offered at the church to improve their English. They were disappointed with the quality of the classes, however, and as a form of retribution for the money spent on the courses, the young man decided to steal one of the bibles sitting in the corner of the church. He said his initial intent was to read each chapter of the bible with the hope of improving his English, although he admits he never got around to it.
"Back home I felt my action was not correct. Even more my wife was very angry and tried to persuade me to return the book," the man wrote in the note.
"This Bible always brought me a guilty conscience. I was too cowardly to hand it over personally. Now I am retired and I make a final impulse to clear my conscience. I deeply regret what I did and can only hope this Bible finds its rightful home again," the letter added.
The bible was reportedly of the large, leather bound variety with ornate detailing, including brass clasps. Scott, the church's treasurer, told NBC News that it was not the type of object one could easily leave a church with; rather, it would have taken some lifting to remove the heavy Holy Book. Scott said that he mailed a return note to the address on the package, thanking the man for returning the bible, adding that he hopes the culprit may now rest easier at night after clearing his guilty conscience.
Scott, who says the church is suffering from money woes, told BBC News that although the bible is not worth much, he is glad to have it back in its rightful home.
"These kind of bibles were kind of standard for well-to-do families in the old days," Scott told BBC. "They used to bring it out at meal times and read it to the children but these days of course, we don't do that sort of thing and so there are a number of them lying around in churches."
"We've got ours back," Scott added.
Credit Christian post.