Finally the date which so many artistes look forward to is here as MCSK is set to distribute it's royalties totaling 28 million shillings to its members. However so much there are rules set by MCSK regarding distribution of royalties.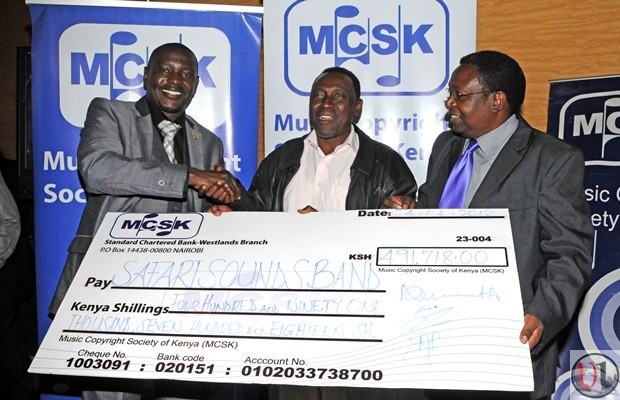 Music Copyright Society of Kenya (MCSK) would like to notify its members of the following: –
That the Society shall be distributing royalties for broadcasting class as per the distribution rules of the Society effective from 27th February 2015 and to run up to 30th, April 2015.
That due to a delay in acquisition of log sheets, Royalty Payments to members bank accounts will be effected on 31st March 2015
That the amounts available for broadcasting distribution is 28,044,484.20 (Twenty eight million forty four thousand four hundred & eighty four shillings & twenty cents)
(Kindly note that the amounts indicated were tabulated from broadcasters that submitted license fees to MCSK during the period July 2013 to June 2014)
That we are using log sheets and data on music usage obtained from Broadcasters & MCSK's digital monitoring service.
All members whose musical works were broadcast between July 2013 & June 2014 will be contacted and all royalties shall be transferred into member's preferred Bank accounts
The log sheets applied will be posted on our website (www.mcsk.or.ke).
Members of MCSK can now confirm Music monitoring status by following steps indicated below:-
STEP 1. On the MCSK website www.mcsk.or.ke, go to the Monitored Works tab and click on the monitored works link on the menu
STEP 2. On the MCSK Music search portal, log in using your membership number as the user name and the access code. Each MCSK name is the user name.
STEP 3. Carefully search for your music works from the database and verify that all your music is being monitored
STEP 4. In case any of your music is not monitored, immediately compose an email and attach your music in mp3 format
STEP 5. Then download the New works declaration form from downloads page on the mcsk website which you should carefully fill and attach a scanned copy to the composed email
STEP 6. Send the email with the music and the scanned copy of the declaration form to distribution@mcsk.or.ke
NB: Members are still free to submit their musical works to the various MCSK offices
ALL MEMBERS ARE OBLIGATED TO ENSURE ALL THEIR MUSIC IS MONITORED BY FOLLOWING THE ABOVE STEPS.
Further clarification on Scientific distribution and/or any issues regarding the log sheets may be addressed to the Chief Executive Officer at music@mcsk.or.ke & distribution@mcsk.or.ke or P.O. Box 14806-00800 Nairobi, Kenya and on 0722 200 872.
NOTE: All members are asked to update their works & Bank details by calling our customer care desk on 0730200236/0713032265
By Order of the Board
MAURICE MWANDE OKOTH
CEO