Exactly an hour after the United States President Barack Obama has left the country his lovely sister Auma Obama took time to personally thank all Kenyans for the warm reception accorded to him.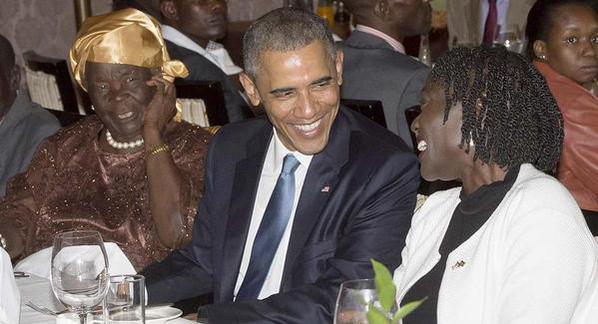 Auma who today had the priviledge of introducing his brother Barack at the Safaricom stadium Kasarani tweeted:
"@Obamaleaving Thank you fellow Kenyans for hosting my brother so graciously. You did me proud. Asante!"
It is amazing that Auma who only has 16,000 followers on twitter managed to get close to 500 retweets and 350 favorites in this particular tweet.
It is evident that the relationship between Barack Obama and his sister Auma Obama is so strong since from the he arrived in the country  the treatment she received was exceptional. Auma got a chance of travelling in the "beast" with Barack , attended the state house dinner that had many government officials in attendance and even had a chance to walk with him on the red carpet.
see all the photos of Auma and president Barack while he was in Kenya