Another year of GOD's blessings is to be celebrated by lovely worshiper's
Adawnage Zidi the Band

and

Number 8.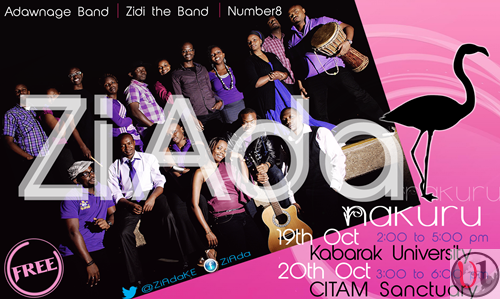 On Mashujaa Day Weekend October 19th and 20th 2013, Ziada will celebrate the far  GOD has brought Kenya and ultimately the GOD of all time in the Ziada Nakuru Edition.
Ziada an event organized by Adawnage  Zidi the band and Number 8 hence the name Ziada  and will be going for its second year running having kick started in the year 2012. In the year 2012 the team inaugural events took place at in Mombasa Nyeri and culminated in Nairobi attracting an audience of 3000 people.
The group will mark its 2nd year of taking the word to the world through a series of revolutionary musical events intended to spread the love of  Jesus  Christ to the people of Kenya.
This year events will begin at Nakuru with a campus edition at Kabarak university on October 19th followed by Ziada Nakuru at the Citam Sanctuary on October 20th.
Entry is Free!!