Xtreem Awards was held on 15th December 2013 at Laico Regency graced by many who love gospel music in Nairobi. The ultimate winners were Dk Kwenye Beat and Mercy D Lai who scooped the male and female artiste of the year.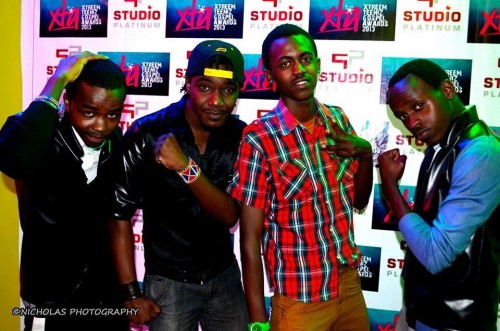 Here is the full list of winners
1.MALE ATIST….DK KWENYE BEAT
2. FEMALE ARTIST….MERCY D.LAI
3.BONGO ARTIST….WILLY PAUL
4.NEW BONGO ARTIST….DENNY C
5.HIP HOP ARTIST…..CHURCH HILL FEAT EKO DYDDA
6. NEW HIP HOP ARTIST….STV
7.CENTRAL ARTIST …BENARD GICHUHI
8.FAVORITE SONG…..ASUSU DK.KWENYE BEAT
9.MC OF THE YEAR…MC NEB
10.EMERGING MC …..MC ANGEL
11.EMERGING NEW ARTIST ….IMANI
12 NEW ARTIST male …KIMDANY
13. VIDEO PRODUCER….BWOY P
14.AUDIO PRODUCER …YO ALEX …HOMEBOYZ
15.MAGAZINE SHOW ….GRAPE VINE KBC
16. TV SHOW…..CROSSOVER CHART
17. RADIO SHOW….TABASAMU ATG RADIO
18. TV PRESENTER…FAITH MUTURI
19. DEEJAY ….DJ RUFF
20. EMERGING DJ….DJ LEQS
21. DANCE KREW……ALLSTARS
22. EMERGING DANCE KREW….CONFIDENCE DANCERS
23. PRANK SHOW…..WAIWA
24.VIDEO OF THE YEA …..WANGU …BAHATI N MR SEED
25. TEENIZ BAND ……THREAT BAND
26. AFRO FUSION……GERRIY WAINANA
27. COAST ARTIST….CALVIN KALI
28. WESTERN ARTIST ….IBRAHIM OSBORN.
29 BEST OHANGLA GOSPEL ARTIST…WAMOR WAMOR
30.NYANZA ARTIST….NYAPAL
31. EASTERN ARTIST….MAGARET MUTUNGA
32.MOST INFLUENTIAL BLOGGER…CABU GAH33. WORSHIP SONG….ANYHONY MUSEMBI
34. RIFT VALLEY ARTIST…LJ MAASAI AND VINY FLAVOUR
35.TEENIZ FAVOURITE COMIC …0BINA
36. REGGAE/ RAGGA …HOPKID
37. COMEDY SHOW …BREAKTINME NTV.
38. NEW ARTIST FEMALE…DEE
39. TEENIZ RAPPER….SILVA MGENGE
40. TEENIZ NAIJA…. P NINE
41.TEENIZ NEW SONG…..WINKY DAILY
42. PROMISING NEW ARTIST….PRAISE MAKENA AND CAROL MUTHONI
43.RADIO PRESENTER …JEFFA C
44.HYPE MAN OF THE YEAR….MC NJUGUSH
45. PATRIOTIC SONG …..ZOE.
46. SONG WRITER …GODSON.
47.TRADITIONAL CONTEMPORARY….L JAY MAASAI
48.TEENIZ CHOICE ARTIST……MASTERPIECE…..
XTREEM HONORARY AWARDS
1 . ALICE KAMANDE….PACE SETTER AWARD
2. ROSY OHON …..PACE SETTER AWARD.
3. CHURCHILL WINSTON GM FAULU BANK LTD…LIFE ACHIEVEMENT AWARD
4. MS WANINI , COUNTY COMMANDANT, KENYA PRISONS …LIFE ACHIEVEMENT AWARD.
5. LEO….THESPIAN AWARD
6. PASTOR EVANS ABABU…..EXCELLENCE AWARD
7. PASTOR MUGAMBI….LIFE ACHIEVEMENT AWARD.
8 .ROB BEYER …MOST SUPPORTING AWARD.
9. ALEX APOKO RINGTON..PACE SETTER AWARD
10. THOMAS KWAKA AKA BIG TED….PACE SETTER AWARD.
11.VICKY KITONGA……PHILANTHROPIST AWARD