Tybe

is the new gospel artiste in Kenya who is currently trending if we can term her music as such. Tybe is on everyone's minds as her song titled "New song" is getting massive airplay to the extent that its being used on tv commercial's by a PRSP called

Bonyeza.

Tybe on her part is just one humble lady who was raised from humble back ground in the area of Korogocho in which she has lived for years now.

We caught up with Tybe and we asked her more about herself.
What's your real name
Tybe: Beth wanjiru
Why the name "Tybe" , is it your real name :
Tybe: Tybe is drived from beth and people know me as Betty.
Where were you raised and which school did you study in primary and high school?
I was raised in Korogocho and studied at Baba Ndogo primary and later on joined Gurec high school.
Your music has really got lots of airplay. How do you feel about that?
Am so humbled and I didn't know how the out come will be. I feel blessed and I know that am not alone in this "safari".
How about your new single called "New song". Seems alot was put in it . Tell us about it and how did it all happen ?
My producer Richy Bitz came up with the concept and cleancity added other details.
What is the message in the song and what inspired the song?
There is a verse that says the lord inhabits the praise of His people and I understood the power of praising and worshipping God.
You are still young, when did you start music?
I started in Sunday school then when i joined high school that is when I started writing my own music. After clearing school I joined a church band in Tumaini Church.
You were in Christian Union in school? Tell us about your music life in high school and when did you really know that you could actually sing?
In high school I ws a praise and worship leader. I knew I could sing when I ws in primary school but I never used to sing.
Why decide to do gospel music ?
I decided to do music as the source of encouraging, conforting, spreading the love of Jesus and doing music gives me a huge pulpit.
Did your parents support your music?. What did they say when you said you wanted to release a song ?
Yes they do. My mum did but at first she didn't get the sence out of that but when I saved money for my first project that's when she knew I was serious.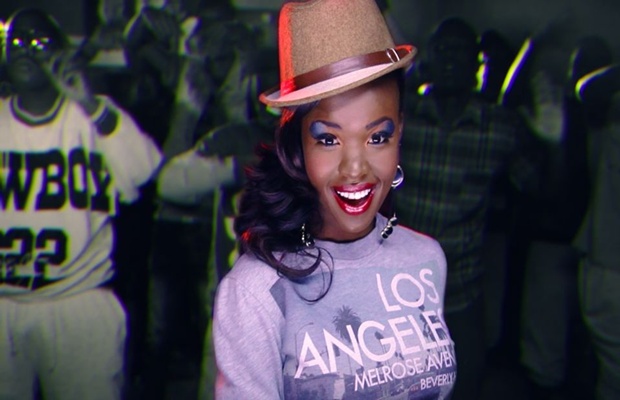 How do you describe yourself as an artiste ?
I am versatile
Is "Check us now" your 1st song? What inspired that song?
Yes it is my 1st. What inspired me is my surrounding, people's talk made me feel like I can't achieve anything. So I had to speak something positive through calling things that are not as though they are faith.
So when people started talking ,when was that? how did you feel?
Since my childhood their were times I felt worthless and with no hope.
That must have been tough. How were you able to overcome that ?
The word of GOD just by understanding that God loves and cares about me.
Tell us about your salvation. When did you get born again?
Since I was young. It became personal when I was in high school.
Any artistes you look up to. Probably there is one artiste you would like to work with?
I love what many artists are doing and would love to work with many but for now Mr Vee and Alice Kamande.
What could be that one message that you would like to tell other artistes who are coming up?
Pray, pray and ask God for direction. Do your best and allow God to do the rest.