In Kenya you will find many awards hosted with aim of awarding individuals that have achieved great milestones in their circle of activities. In the same awards you will find out that very little attention would be directed to the purpose of such achievements. Has the society actually been impacted ?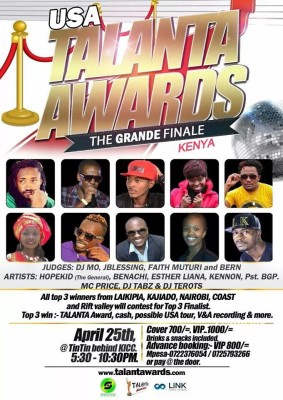 Now we have a new awards in Kenya called Talanta Awards that is undeniably a ministry touching lives far and wide by celebrating individuals who have achieved a purpose but not precisely the status.
For very first time Talanta Awards will be held in Nairobi Kenya on April 25th at the Fancy TinTin KIC after conducting talent searches in 5 counties that is Laikipia, Kajiado, Coast, Nairobi and Riftvalley.
On the 25th of April the 15 winners will get compete to win the Prestigious Talanta Award, Possible USA tour, free V&A deals, cash and exposure to all international Talanta platforms in 2015-2016 season. The Talanta Awards 2014 non-usa based winners will also receive their awards.
There will also be performances by various Artists including Esther Liana, Bern, Benachi, Kennon, Willy Paul, USA Talanta Awards 2014 winner Carol Gitau among others.
On the Judges Chair will be Re-known Top producer J Blessing, NTV VDJ Topa de top DJ MO, Crossover presenter Faith Muturi and the very Musically talented Minister Bern.
Drinks and Snacks are included in the cover charge of 700/= regular, VIP 1000/=, Advance VIP 800/=.
For details and bookings call :
0722376054.