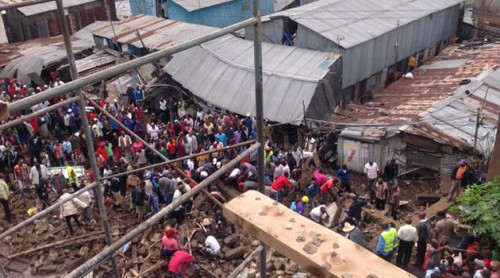 Following the heavy rain that poured on Monday night in most parts of the city, a wall in Fuata Nyayo village in South B collapsed and left 10 people dead and two others injured.
According to St. Johns Ambulance who have been assisting with the rescue operations, the incident occurred at around 8.30 pm and since then they have transferred the injured victims to Kenyatta National Hospital.
The cause for the collapse of this wall is yet to be known but due to the heavy downpour the most probable cause would be weakening of the wall by the flooding in the area.
According to Fred Majiwa,the communications manager at St.John's ambulance the rescue operations had been called off at 1.30 am and continued at daybreak. He also cited that the main problem his personnel encountered was the flooded roads and crowds of people making it difficult to access the scene.
This however is not the first case of people losing their lives in this rainy season.  The floods in Narok recently left a wake destruction claiming several lives,destroying properties, leaving others homeless and made roads impassable which hindered rescue operations.