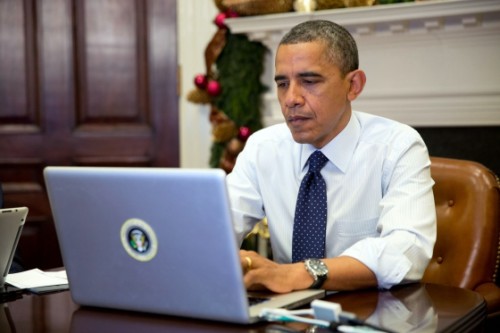 After six years in office Barrack Obama has finally opened his official twitter account @POTUS (President of the United States). The account has so far attracted over 1.6 million followers in less than twenty four hours. Barrack Obama's bio describes him as a Dad and the 44th President of The United States. His first tweet reads, "Hello Twitter! It's Barrack. Really! Six years in, they're finally giving me my own account."
The account serves as a new way to engage with his followers. Barrack Obama is so far following 65 accounts that are all verified. Among these accounts are John Kerry, Bill Clinton, George W. Bush and of course his wife, The First Lady- Michelle Obama @FLOTUS (First Lady Of The United States).
@POTUS received a warm welcome from tweeps including former head of state Bill Clinton who welcomed him to twitter saying "Welcome to Twitter @POTUS. Just one question, does the username stay with the office? #askingforafriend." Michelle Obama also received him warmly and tweeted saying,"Its about time @POTUS"
In all the tweets that Barrack Obama initially posts he writes himself off using the initials BO. The latest tweet on his account has received over 36K retweets and over 58K favorites. The hadle will transfer to the next Head Of State when Obama leaves office.