Brazil superstar Neymar will miss the remainder of the World Cup with a broken bone in his back.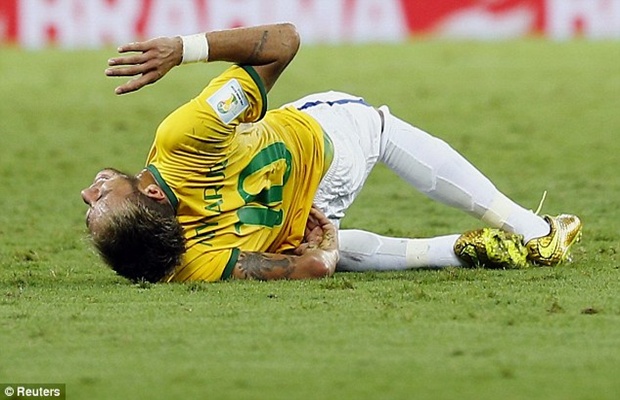 The 22-year-old, who had scored four times to lead his country to the quarter-finals, was carried off on a stretcher in the closing stages of Friday's 2-1 win over Colombia and taken to hospital.
And team doctor Rodrigo Lasmar told local media in Brazil that Neymar will not kick another ball at the finals, expecting his recovery period to be at least four weeks.
'It's not serious in the sense that it doesn't need surgery, but he'll need to immobilize it to recover,' he told SportTV. 'Unfortunately, he's not going to be able to play.
'The exact time (to play again) can be four to six weeks, but it is too early to confirm this. Let's wait for other tests. This is the first diagnosis we had. Initially, we know he will not be able to play.'
Neymar flew back to Rio de Janeiro from Fortaleza with the rest of his team-mates following the match and was then transported by ambulance to the team's training base at Teresopolis.
The Barcelona forward had been struggling in the build-up to the all-South American clash with thigh and knee strains but was passed fit to start.
But he was carried off three minutes from the end after Juan Zuniga's knee landed in his lower back leaving him in tears.
Zuniga said: 'It was a normal move. I never meant to hurt a player. I was on the field, playing for the shirt from my country, not without the intent to injure. I was just defending my shirt.'
Brazil manager Luiz Felipe Soclari, speaking before Lasmar's interview, said: 'I don't think he'll be able to play in the next match.