Most businesses affected in Nairobi.
Floods to continue till end of May.
Abnormal long working hours witnessed.
Increase in transport costs.
Poor drainage infrastructure.
Property loss.
Following the heavy rain downfall in Nairobi since Monday, lives for the residents have changed drastically after many businesses came to a standstill and Kenyans have now been forced to go to bed late and waking up early. The long wait of matatus on different bus stops has been fueled up by roads flooding to the extent of not getting a pass through.
Tuesday was just bad as Nairobians got stuck in traffic for almost 12 hours with others stating that their time of arriving home from work was only an hour less from their wake up time. Some decided to be creative and carry extra clothes at least to sleep at work so as to avoid the inconvenience caused by the high transport rates and late sleeping hours.
Drivers are forced to work for extra hours by taking people home. It has been noted by majority of Nairobians that Nairobi County is experiencing poor infrastructure of bridges and roads. Bridges are washed away and roads linking town centers are cut off.
"On behalf of the County Government I would like to express my sympathy to those who have lost properties, commuters in Nairobi who have spent hours in traffic, school children who have been stranded as a result of the heavy down pour experienced in the last two days." apologized Nairobi County Governor, Evans Kidero, on his Facebook page early this morning.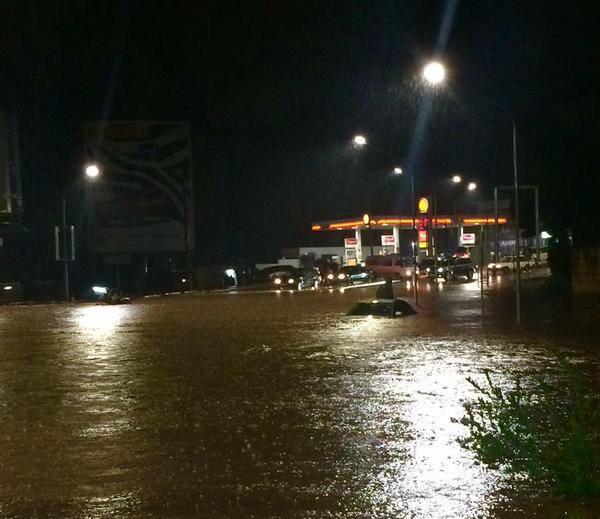 Many have lost lives and properties worth millions,houses being swept away, a case that was affecting residents from Turkana East District in North Rift region. So far 9 people have died from Narok floods, 10 in Nairobi amid 7 injuries which included a 24 year old woman and a 8 year old girl.
The Nairobi County Commander Mr.Benson Kibui said that two bodies were discovered in the outskirts of Nairobi after midnight due to the floods. Motorists find it difficult riding on pools something that has made life hard on their side.
Major floods have been cited in Kileleshwa, Ongata Rongai, Ngara, Parkland, South B,Ngong road and South C. It also poses a great alarm in the health factor as many people cannot walk with shoes through the waters and for those who walk with shoes it is a risk on buying another pair since most of the floods are coming from sewage outbursts that are filthy and unhygienic. Many people are vulnerable to water borne diseases and floods acts as a major threat.
The County governments through the ministry of roads should construct good foundations of infrastructure as a precaution measure towards reducing cases of death during such like periods.