Mutula Kilonzo (2 July 1948 – 27 April 2013) was a Kenyan politician and Senior Counsel, who served as Minister of Education after having previously served as the Minister for Nairobi Metropolitan and justice and constitutional affairs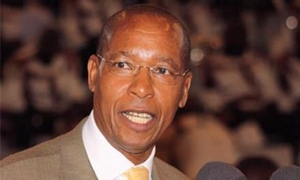 [1] He belonged to the Orange Democratic Movement-Kenya (now Wiper Democratic Movement) and was elected to represent the Makueni County as Senator in the 2013 general elections.
Kilonzo was educated at Mbooni Primary School and Machakos High School before joining University of Dar es Salaam in 1969, graduating with a First Class Honours Degree in Law—the first in the East African region. In the National Assembly of Kenya in theDecember 2007 parliamentary election.[2] He was Minister for Nairobi Metropolitan Development until being appointed as Minister of Justice and constitutional affairs on 4 May 2009. He was the minister of education until April 2013 when the newly elected president was sworn in. He previously served as private attorney to now retired President Moi.[3] Mutula Kilonzo made his debut in parliament as a nominated M.P for K.A.N.U in January, 2003.[4] He is on record for having controversially pushed for school girls not to be forced to wear "nun-like" skirts. In addition, He advocated for president Uhuru Kenyatta and Vice President William Ruto to go to the Hague to face charges for crimes against humanity for their roles. He also ordered Kamba MPs not to step down for party leader Kalonzo Musyoka who lost the presidency. There is no question many did not like his outspokenness as a leader.
Kilonzo died under mysterious circumstances at his Maanzoni home in Makueni Countyon 27 April 2013.
This is what most Kenyans will remember him for.
check out this video