The son to Citizen tv's sports anchor Mike Okinyi was finally laid to rest yesterday at the langata Cemetery . Relatives and  friends joined Mike and his lovely wife at CITAM church valley road before proceeding to the cemetery to lay their son Twani to rest.
Many people who knew Twani Kitwana including his class mates shared their experiences they shared with the 3 year old boy whom they viewed as a loving and jovial child.

Accompanied by her husband on stage Mike's wife Dorothy Okeyo Okinyi echoed the sentiments made by others and also went on further to share her final moments with her beloved son.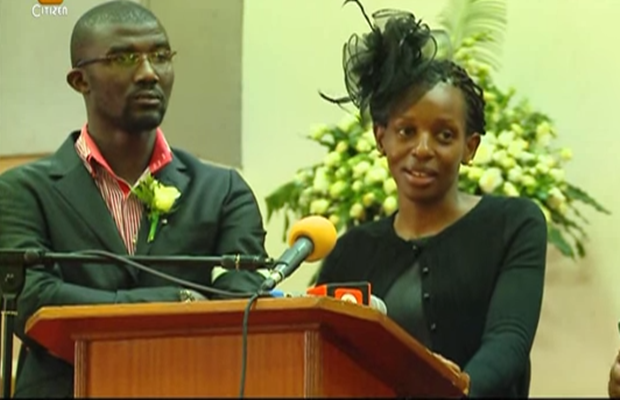 " If somebody today told me to describe my baby in one word it will be LOVE. My son loved, my son loved anybody anytime." "…… indeed life was short.He probably was aware that life was short , so lets not waist it having unnecessary fights"
Mike who spoke moments after his wife had this to say: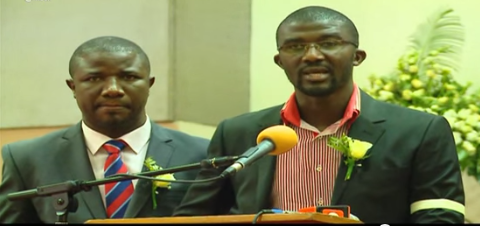 "What i have always thanked GOD for is that HE allowed me to be there for when He was born , HE allowed me to say Goodbye."
Royal Media family also joined their colleague Mike to condole with him and his family. Speaking on behalf of Royal Media services chairman  MD Wachira Waruru sent out  condolences to Mike and family .
"From all of us at Royal Media I would like to say poleni sana may GOD bless you and your family and may GOD rest the soul of Twani rest in peace." MD Waruru said
Twani passed on  four days ago after battling with sickle cell anemia. The news of his demise was first broke by the Mike on twitter in  a tweet that said:
"It is with great sadness that i announce the demise of my boy Twani Kitwana ……… he was a fighter but lost the battle today."