The prestigious 2015 StartUpAfrica Lifetime Achievement Award will be given to Dr. Manu Chandaria for his life-long commitment to youth empowerment through entrepreneurship.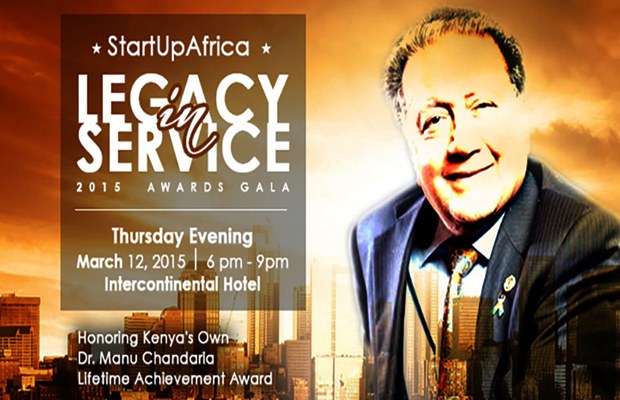 Dr. and Mrs. Chandaria have tirelessly committed their lives to ensuring that the youth are prepared and equipped with tools and skills to make them tomorrow's job creators and Startup Africa will be honoring him this Thursday at Intercontinental hotel from 6pm.
The award will be presented to him during the 2015 Entrepreneurs Awards Gala, an event that gives us an opportunity to bring together the true pillars of our community for both networking and the exchange of well- earned wisdom.
Dr.Manu Chandaria is the Chairman of the Comcraft Group in Kenya. He's engaged in work covering many aspects within the framework of a joint Indian family with business interests in over forty-five countries and a workforce numbered in thousands globally.
The purpose of the Awards is two-fold.  First, they provide national and international recognition to entrepreneurs, whose successful businesses and achievements contribute immensely to the local, national, global economies as well as to their communities. And second, they are vital to future economic development and prosperity and ensure that entrepreneurs are encouraged and cultivated.
To book a ticket to the event click here or call : 0722 160172
Email: allaroundpromo@gmail.com
Event Tickets Purchase Options
MPesa: Ksh. 5,000 per person
Make payments to:
All Around Corporate Promotions Limited
Pay Bill No. – 222111
Account No. – 065000007704