U.S. President Barack Obama delivered a speech on the life of Nelson Mandela on Tuesday in Johannesburg, South Africa, describing the late South African president as "the last great liberator of the 20th century," and compared him to the likes of Mahatma Gandhi, Dr. Martin Luther King, Jr. and Abraham Lincoln.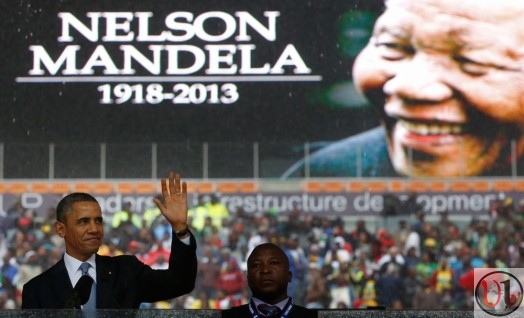 "Given the sweep of his life, the cope of his accomplishments, the adoration that he so rightly earned, it's tempting I think to remember Nelson Mandela as an icon, smiling and serene, detached from the tawdry affairs of lesser men. But Madiba himself strongly resisted such a lifeless portrait," Obama said at the service attended by over 90 world dignitaries in front of tens of thousands of people.
"Instead, Madiba insisted on sharing with us his doubts and his fears; his miscalculations along with his victories. 'I am not a saint, 'unless you think of a saint as a sinner who keeps on trying.'"  he said.