Liverpool produced one of the most stunning opening 20 minutes seen at Anfield – and arguably one of the best ever – to blow away Arsenal by beating them 5-1.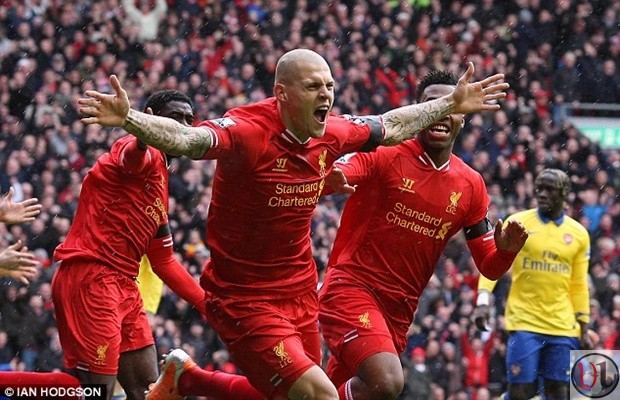 Brendan Rodgers' rampant Reds fired four goals before the visitors knew what had hit them, and they were incapable of finding a response.
The irony was that the league's leading striker Luis Suarez, whom Gunners boss Arsene Wenger tried so hard to sign in the summer with a cheeky £40,000,001 bid, did not get near any of them.
Suarez, who deserved a goal for a brilliant volley which beat goalkeeper Wojciech Szczesny but not the post, could claim an assist for Raheem Sterling's first of two but Liverpool were well in control by then thanks to two from defender Martin Skrtel – the first after just 52 seconds.
There was a sense of incredulity around Anfield when Daniel Sturridge caressed home the fourth with less than a quarter of the match played but for Arsenal it was more a feeling of bewilderment as an eight-game unbeaten run came to an end with Mikel Arteta's second-half penalty no consolation.
It left a question mark hanging over their ability to sustain a challenge on three fronts with Manchester United at the Emirates Stadium on Wednesday, quickly followed by Liverpool in the FA Cup and then Bayern Munich in the Champions League.
Liverpool's first home league win over Arsenal since March 2007 moved them to within five points of their opponents, who started the day with a two-point advantage over Manchester City and Chelsea at the top of the table.
Rodgers has ruled his side in – and then out – of the title race but anything close to a repeat of this form in the remainder of the campaign and he may have to reconsider once again.
An 11th home victory in 13 attempts, their best record since 1987-88, indicates where their strength lies and with Chelsea, Manchester City and Tottenham all still to come to Anfield Liverpool should be able to set their sights higher than merely securing fourth place – providing they can avoid some inconsistency on the road.