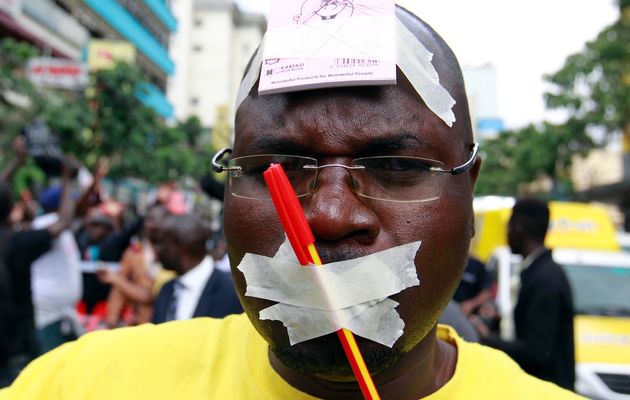 Kenyan journalists accused of bribery from top politicians
Leads to killing of stories that are of public interest
Poor pay and donkey work facilitates corruption
Frustrations and Threats on field work reporters
Fear of loosing the daily bread
Over the last two months, journalists in Kenya have been termed to be corrupt, unprofessional and extravagant with their work. This came after top journalists from Royal Media Group were suspended for ten days after they allegedly received a bribe from a rich politician.
Swaleh Mdoe, Mwana Hamisi Hamadi, Shisia Wasilwa, Kimei Arap Kimei, Yusuf Ali, among others were supposedly suspended after they allegedly killed a news story that was hitting a top politician even after the item had reached Royal Media Services premises on the Kajiado by elections campaigns.
The issue  sold like hot cake, making the public furious and distrust towards the Kenyan media, a matter that was  discussed on NTV's Press Pass. Attending the interview hosted by Ken Mijungu , were nominated Senator Naisula Lesuuda, also former journalist, Bonface Mwangi, Activist and Award winning Photo Journalist, Eric Latiff, Capital FM Online Editor and Oloo William Jonak who is the Chairman Correspondent Association of Kenya.
The above panelists condemned the act of journalists taking  handouts to kill stories  though tackled issues of poor payment to field reporters who do the donkey work.
Boniface Mwangi raised his concerns about corruption in the media by saying that Kenyan journalists are the most corrupt in the country since what they are paid per story is not enough to cater for their needs, citing bus fare, lunch and rent as examples. "How much does NTV pay a journalist for a story? he asked.  He also noted that journalists write favorable stories so as to get top government positions from the promising politicians once they get power.
"If you are doing your job nobody should buy you lunch because your employer is buying you lunch," an ecstatic Erick Latiff stated. He emphasized on maintaining integrity which is part of media ethics that journalists are taught in journalism schools.  Even though Lesuuda agreed with the statement to some extent she defended journalists by saying : "Appreciating a journalist with fare and lunch is not bribery."
Oloo William Janak equated media corruption to the police force  adding that comparing what correspondents get is like the policeman taking bribe on the road. On the other hand he said corruption in the media is a real threat that should not be justified but dealt with. "However appreciating a journalist after doing a good story on air is just to say thank you," he continued.
Lesuuda also mentioned frustrations and fears that affect journalists leading to killing of stories that mostly affect the government. She also addressed the issue of trauma experienced by journalists while covering terror attacks like in the case of  Garissa University Massacre that left journalists traumatized. She suggested that a solution should be provided by psychologists who can tackle such cases since journalists are human.
The media industry in Kenya has of late received a kick back in terms of corruption majorly with the field reporters who receive bribes and name them "VAT" or the famous "envelope". They term it as their right due to daily frustrations by the wealthy people.
It has been again noted by the Media Council of Kenya that journalists should be paid well and engage into various seminars and conferences that will equip them more on their careers to be objective ethically. At a media seminar organized by Article 19 and Media Council of Kenya,(MCK)  the Vice Chairman of MCK Victor Bwire said that it is high time upcoming journalists feel valued and respected so that they can serve the nation with whole heart. Article 19 was discussing the bill of rights.
With all these allegations made against journalists it is time the Media Council of Kenya (MCK) and Kenya Union of Journalists (KUJ)  find appropriate measures in addressing corruption among journalists  before the media industry loses  taste. They should as well sit down with journalists through seminars and conferences to  educate them on dealing with corruption.
It will be proper if journalists' payments were increased so as to  prevent corruption and killing of stories that are important to the public domain.