Gospel Karaoke Night is back for their third edition after hosting Adawnage Band and Kambua on the last two editions.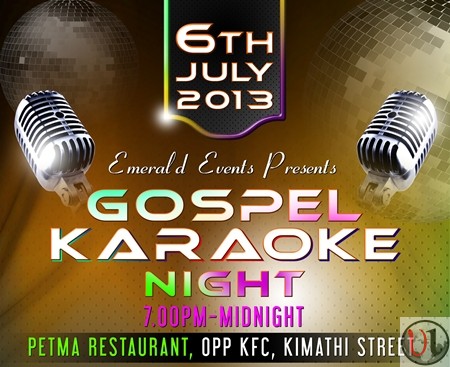 Gospel Karaoke Night is an event organized by Emerald Events Management Limited. The event runs every first Saturday of alternate months.
The last event was held on 4th May 2013 at Timers Restaurant where award winning worship singer, Kambua was the featured artist and judge. Other judges were super producer Jacky B and Makena.
Moreover, there were DJ mixes from Genius Republic DJs (DJ Sadic, DJ Touch and Frank the DJ); an open mic session; and hype sessions from MC Kelly and the Alabasta Dance crew. The winners walked away with a pair of tickets from iMax, airtime, Genius Republic DJs mixtapes and Autographed Kambua CDs.
The July edition promises to be bigger and better. It will be held on the 6th July 2013 at Petma Restaurant, opposite KFC, Kimathi Street from 7 p.m till midnight. There will be no featuring artist as it will be open mic. Participants will be able to sing any gospel song of their choice, both local and international.
In addition, they shall have DJ mixes by Genius Republic DJs (DJ Sadic, DJ Touch and Frank the DJ); and hype sessions by MC Kelly and the Above Limits Dance Crew.
There will be giveaways for the best entertainers, people who exhibit the best stage presence and those who know their lyrics. These giveaways will include free airtime, Genius Entertainment DJs mixtapes, drinks and dinners.
This time round, Music Production Power House – Ogopa Deejays – will also be in the building.
Ogopa has produced great talents in the Gospel World including Daddy Owen, Juliani, Roughtone, Ringtone, Allan Aron, Dunco, VKP, Mr. Seed amongst others.
The performer who will impress the production house stands a chance of recording a single at their studio at no cost.
They have partnered with Genius Entertainment, Ogopa Deejays, and Swizz Entertainment. Tickets will be available at the gate.