It is one of the most awaited interviews I have ever had in my life. From the very first time I heard Jemmimah Thiong'o's 'Mwenye Baraka' song, back in 2003, I wondered if one day I would get a moment to interview her.
On this beautiful Monday morning a minister has just arrived, Jemimah Thiong'o is at Uliza Links office and she is humble, happy, and smart on her pink outfit that has the feel of a real African woman.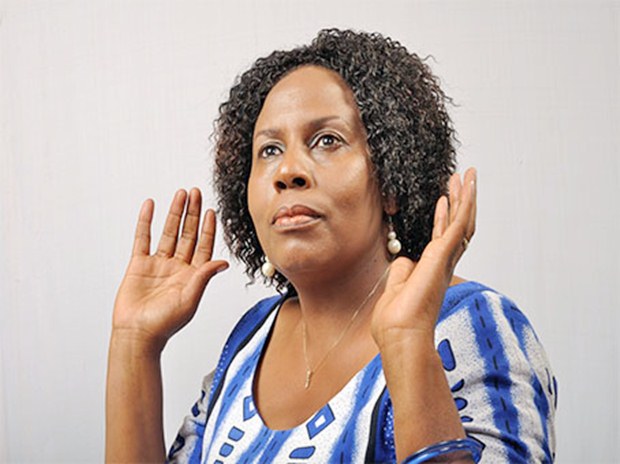 Accompanying her to the meeting room where the interview will take place is Macharia her personal assistant and as soon as they sit, we do a bit of introduction and fantastic ice breaking and off we start the interview.
"Who is Jemmimah?" I ask. "Jemmimah is a mother, wife, farmer, musician and a born again christian," she begins.  She is the second last born in her family and does a lot of farm work and spear heads many women groups in her village.  She started singing in her local church and has recorded almost 40 songs though others have not yet been released.
Jemmimah came to the public limelight in March 2003 when she released her first album, 'Alinitua' and later released her 2nd album in 2004-2007 called Imani and finally she did Penya in 2010 with her biggest producer being Robert Kamanzi also known as R-Kay among others like Bosire Delmond and Dominic Khaemba.
Jemimah's first hit song 'Mwenye Baraka' was released in 2003 but she performed it for the first time in a state function (10 years down the line) in the Presidential inauguration in 2013 after an invitation by the current President H.E Uhuru Kenyatta when he was being sworn in as president. It was done with a university choir who danced quite well as it all went down.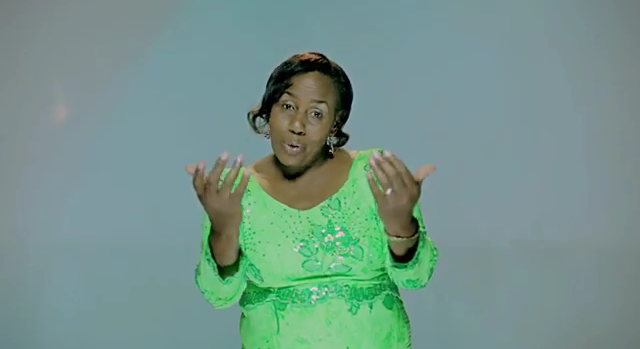 Her family life has been kept private with many of her followers only knowing about her music but in this interview I try to get more information about her and she tells me more.
"My children are not known (laughs) but I have a son called Daniel another called Derrick and a girl named Ciku. Those are my biological children though I have many spiritual children. She is married to a very supportive husband who helped a lot in marketing her music at a time when they were still in form of cassettes.  "At that time, there were only 50 cassettes and when my husband reported to work, the cassettes were already sold by 9 am. Even his own copy was sold."
Everyone who follows Jemmimah closely would think that her journey has been easy but sitting down with her, Jemmimah speaks of the challenges and pains she has faced as a Christian. 
During the release of her third 'Penya' album in 2010, Jemmimah was to go through a painful journey of losing her sister and she states that it was not easy. Jemmimah saw her sister die with her two eyes and she asked God to use her heart and penetrate her hence releasing "PENYA".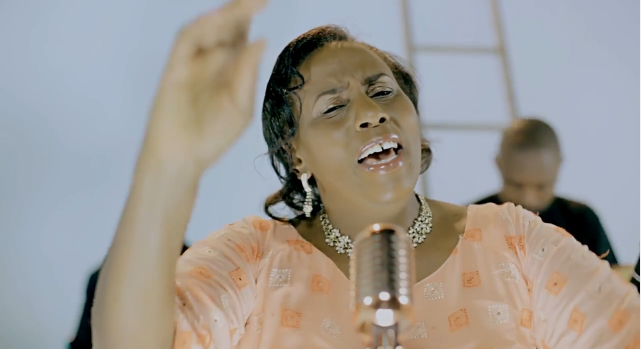 She recalls her prayer to GOD : "I want to know you more because at that time there was a situation where I was telling people there is a GOD who heals and here my sister was dying." 
She takes me back on how it all happened narrating how she faced all the pain from losing her first sibling in the year 1998.
"My first sibling passed in the year 1998, and my second sister was diagnosed with heart problem in 2007. We  did a fundraising for her and she was later to be operated at Nairobi hospital." She remembers how they fasted in prayer and two days after the surgery her sister called her for prayers.
Later she had planned to travel and while on transit she received a call from the hospital requesting her presence at the hospital to allegedly sign a form for surgery of her sister. She states that once she hang up she didn't feel like that call from the hospital was legit and smelt a rat while heading for the hospital. Jemmimah was later to confirm her doubts as the nurse on duty was tricking her to come to the hospital only for her to break the news that her sister was no more.
"That day I wept bitterly the whole night after the doctors had tricked me to come and sign for a surgery concerning my sister. That call, I felt was just a trick. On arrival at the hospital,  I knew that my sister was no more but the doctors did not want to shock me. My husband dropped me to the hospital and later I was to find out that Grace ( her sister's name) was no more."
"Grace was so close to me, we were close, my health deteriorated I felt discouraged and I didn't even tell R-Kay that Grace died, even Mbuvi wondered where I disappeared to."
The loss of Grace was heart breaking but Jemmimah was to be hit with another funeral during the month of  December when her brother who was older than Grace went to bed and didn't wake up. He had left them after Grace and they buried him in January.
Even after losing her three siblings Jemmimah was to to go through others tests of Faith that made her to take a break and just submit to GOD. Probably others would have given up but Jemmimah decided to hold on to her faith and surrender more to GOD.
"I remember around February my brother in Murang'a got ill. I told God, this is enough, I cannot lose another person lest people ask where are you ?. Faithfully, my brother recovered from the illness and he is still alive but later in the same year my eldest sister than my brother who recovered, collapsed in the house. I was now finished.
I came to realize that it was my battle for faith, music and ministry."
Jemmimah was later to see death at one point when shooting  'Penya' video.  She had invited her friend Rose Jeffa from Burundi to feature in her video and Rose came with her little child and requested Jemmimah to be first in the shoot as she was to take her child somewhere.
She was with another lady and as soon as they finished shooting the video, Rose requested the lady she had come with to hold her baby as she concluded an issue with Jemmimah. "I don't know how the child slipped out of the hand of this lady and she was knocked and she died."
"That is where now the real death in me came and i just went under and just told God it is you now, it will never be me anymore because everywhere i go i'm smelling death i'm seeing death i'm feeling death, God i just want to be in my house and just rest. Whether you believe in God or not, if your siblings are dead they are dead. Every temptation that comes my way, God knows about it."
She says God's time is the best. "We stress  ourselves, we fail to do what God has called us to do because we want to be out there its all about God. To those who have lost loved ones, the only thing that will make them lose it completely is when they lose faith, just hold on to Jesus, everything that he does, he is right."
Prison Ministry 
Jemimah got touched with Prison ministry after a lady who was helping her with farm work allegedly killed her child and was locked behind the bars. She used to pay her a visit but she couldn't trace her anymore. Having sympathized with the pathetic situation in the prison at a time when it was filthy, she got the urge to minister to those in prison.
She was given a chance to shoot a video in the prison, for two songs 'Mipango ya Mungu Ni ya Ajabu 'Pendo la ajabu' and it succeeded with friends contributions like sanitary towels, inner clothing and food. R-Kay and Victor Mbuvi contributed a lot, Manu Chandaria could give her tissue papers and Githunguri Dairies helped her ministry with long life milk.
Those two songs were done in the same day same night The major challenge she faced was prison warders being transferred to different places as well as lack of sponsors to enable her minister to outside prisons. She named the prison ministry as "Inuka African Woman", a call to every woman to do something for her nation instead of waiting for the government or foreigners to come and do something.
Upcoming event.
Jemimah will be having a live concert called "Inuka African Woman" at Michael Joseph center on 29th May 2015  from 6-9 pm and the entry fee will be Ksh. 1000/- .  She will be backed up by Zidi the band and Mary Atieno. Call 1511 to buy tickets