Legendary gospel artiste Jemmimah Thiong'o is gearing to host a life changing event  on Friday May 29th at the Micheal Joseph Centre dubbed 'Inuka African woman'.
The event that will be running from 6 Pm to 9 Pm, targets to attract people from all walks of life most importantly the African woman to rise up and do something in the community.This will be the first time that the renown singer behind famous worship songs like  'Mwenye baraka', 'Mganga', 'Penya' among st others will raise funds for her great initiative .
"The event will be used to raise funds to be set aside for the ministry at the prisons and its also a call for every African woman to arise and do something wherever she might be," Jemmimah said during an interview at the Uliza Links offices.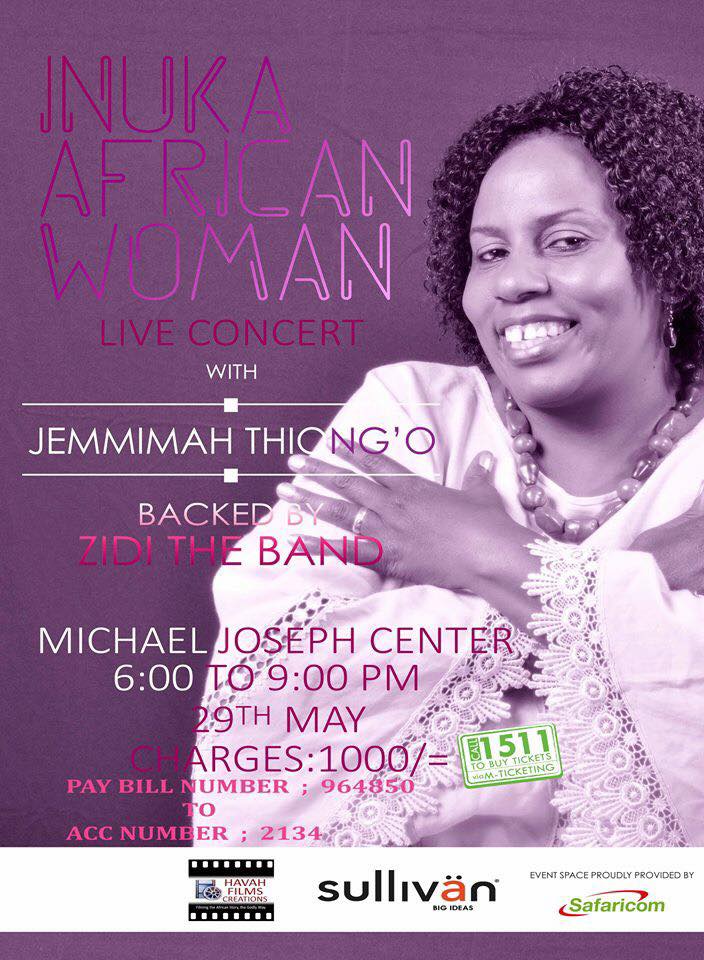 The highlight of the night will be that this award-winning artiste will  perform live in concert for the very first time  backed up by the amazing  Zidi the band. Celebrated spiritual gospel singer Mary Atieno  will also be performing at the event among st  many other gospel artistes.
From the event,the mother of three expects to raise about Kshs. 250,000 that will help her spread her ministry to other parts of the country such as Meru, Nairobi , Kisumu and Isiolo .
Jemmimah who has 3 albums to her name is a wife,a farmer and born again Christian made her debut in the music industry in 2003 and she is relevant to date.
She is working on her Kikuyu album that is set to be released soon as well her ministry to the prisons where she has even shot the video to her song titled 'Pendo la ajabu'. She also holds forums to empower women in her village.
The entry charges are 1000 shillings per head and the proceeds will go into funding her initiative to visit and donate food and toiletries among many other things  to prisoners in various prisons in the country.
Tickets to the event are available via M ticketing.