The story of Maurice Odumbe is a lesson to any one who is up there and is living high on the best things in life. Maurice Odumbe was once the best cricketer of all time with a good house , good wife , good cars , you name it. He had everything a man could ask for in this world but while the likes of Sachin Tendulkar are retiring in such a high state our hero Maurice Odumbe who many cricket players around the world know, is living as a poor man.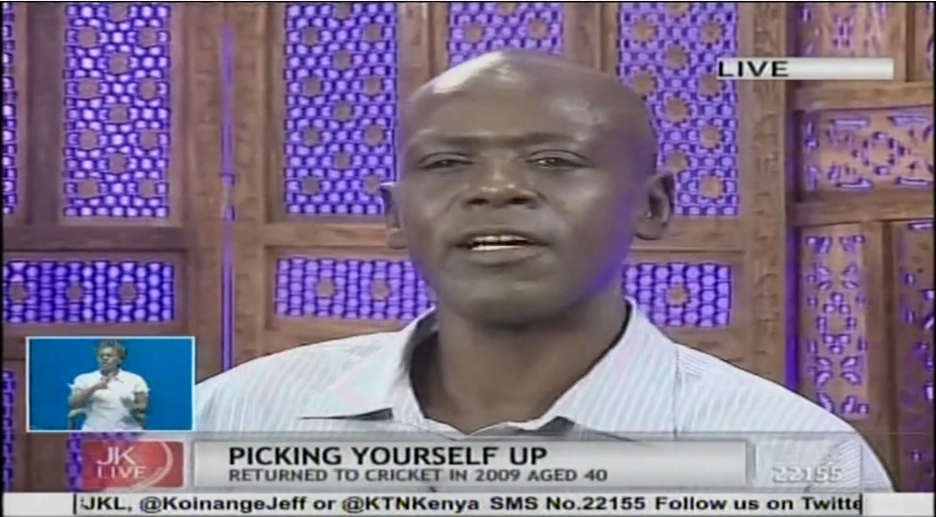 His interview on JKL was really emotional sharing how he is living from hand to mouth begging for something to eat. He even loans out his phone to get money back. That's how bad it is for someone who could afford a thousand phones if he wanted to 12 years ago.
Kenyans expressed their feelings after watching the interview on Jeff Koinange Live.
#JKL …Odumbe, Tikolos & Sujis brought Cricket to our back yard:when we forgot Maurice Odumbe;that's where we as a nation left the sport.

— OTIENO FRED ODUOR (@uredospores) January 8, 2015
@KoinangeJeff , Maurice Odumbe is my boy. It is sad how we neglect our heroes. I have always supported him. #JKL — Donald B Kipkorir (@DBK017) January 8, 2015
Put him on your show Ndugu @ItsMainaKageni and lets give this great Kenyan a second chance. Thanks @KoinangeJeff #JKL #MauriceOdumbe

— Ronald Osumba (@RonnieOsumba) January 8, 2015
Everyone deserves a second chance. Watching Maurice Odumbe on #JKL was heart wrenching. Look forward to helping change it all @KoinangeJeff — Hesh (@HeshdeSilva) January 9, 2015
God is so gracious,he affords us to many chances and #MauriceOdumbe just like any other man deserves a second chance,wish you well man #JKL

— Fidel (@fidycriss) January 9, 2015
Maurice Odumbe on #JKLive , you are still a respected legend. You're a Kenyan hero. We appreciate you. @KoinangeJeff #JKL — Maina Kageni (@ItsMainaKageni) January 8, 2015
Its not yet over for you Maurice Odumbe. God still has great plans for your. @ulizalinks @KTNKenya @KoinangeJeff #JKL

— Dj Soxxy (@DjSoxxy) January 8, 2015
Everyone who smiles,laughs,drinks,party with you ain't necessarily your friend,when the money n booze is gone,they'll be gone as well #JKL — Kenya West© (@KinyanBoy) January 8, 2015