Life would probably have been normal for a young lady by the name Jane Mwangi but one sad ordeal led her to be paralyzed after a thug shot her for giving out a wrong MPESA pin out of fear.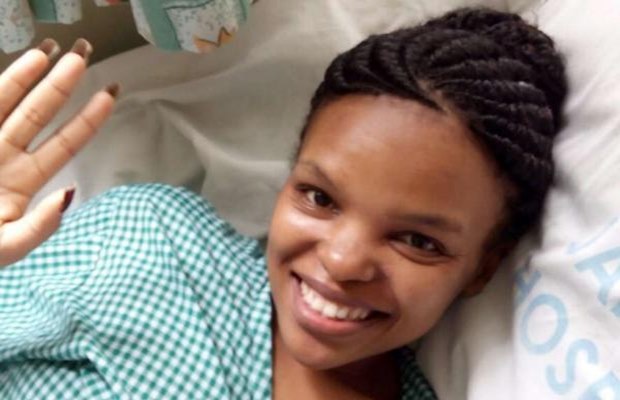 Jane had just started her career in journalism after graduating with a Masters degree in communication from the Communication University of China in Beijing. On this fateful day she was not reporting but was actually coming from church when she met this armed robber that changed her life.
"I had just alighted from a matatu and was walking home at about 7.30pm. I was talking to a friend as we headed to my gate. Out of the darkness, a young, bearded man stood in front of us, blocking our way. He looked nervous, but demanded for our valuables.
I gave him what I had in my hands: a Huawei mobile phone. He quickly went to the M-pesa app and started fidgeting with it. With him distracted, my friend managed to get away, leaving me at the mercy of the thug. He demanded for my PIN to access the cash. Too frightened to think straight, I mumbled some numbers. He put the pin and when he could not access the money, whipped out a gun and in a split second, fired it through my chest. Everything happened so fast. The pain was unbearable and I started losing consciousness. I could not scream as loud but kept begging him to spare my life. He ran off into the darkness," Reports the Star. 
"The bullet hit my right shoulder and went through my back. It was trapped by my sweater where it hang until the doctors saw it. I fell on my back. I could hear sounds far away but did not make much sense of them. I was repeating the Mpesa pin as if the assailant was still there. The gunshot reverberated through my neighbourhood, attracting attention. The first person to respond was my immediate neighbour. I could hear her desperation as she exclaimed, "They shot Jane!" She started shouting for help. My parents came very fast, and got me to a nearby hospital which referred me to Kenyatta National Hospital."
"However, it was at Coptic Hospital where I was admitted the same night. The doctors worked hard and fast to control the bleeding. The next day, I went through hours of surgery. The doctors informed me that the bullet missed my spine by only a millimetre. It however destroyed nerves in the area, leaving my whole body without feeling. I was coming to terms with the events of the previous night when the surgeons came to my bed side.
They told me as calmly as they could, that I may never walk again, since the bullet grazed nerves on my thoracic spinal cord area. I could not feel the lower section of my body, so I could as well assume I won't walk for a while. But never walk again? The news left me dumbfounded."
THE COSTLY JOURNEY 
I would undergo painful physiotherapy sessions every day at the hospital. But I was determined to get my whole life back. After some weeks of treatment, I was discharged.  I have no control of my bowels so I use a catheter. My mother has to clean me up as well as do everything else for me. Everything. Would you imagine being washed by your mom at 30 years?
I also needed a special orthopaedic mattress that cost Sh80,000. A good Samaritan offered the mattress for free.  I could not turn myself in bed, or even sit up without assistance. This left me with bed sores, some so severe that I have been in and out of hospital for treatment.  The life of loneliness, being bed ridden and house-bound, began.  Out of empathy, my friends raised funds to get me a wheelchair. I had to learn how to operate it to get me around.  
Having a catheter inserted in the body to pass urine is another whole world of learning. I am more prone to urinary tract infections now and must take medications to clear them. We were not prepared for this when I was discharged from hospital, and it has taken its toll on me.
That was the good news. However, the treatment was only available abroad, he said, because no Kenyan hospital has the ability to treat me beyond what I have received so far. My friends have taken to searching for a hospital that can offer rehabilitative treatment to help me.  We have been in communication with a hospital in Texas, USA.
They have gone through my medical records and have responded.  They quoted a treatment regime that can help me regain control of my bowel movement, and get me off the catheter.  For that, I need at least Sh10 million ($100,000). That would be followed by more rehabilitative treatment to help me regain use of my lower body.
URGENT HELP TO SUPPORT JANE
Jane's family have now spent a total of 1 Million shillings to help her recover but she needs more money to cover her bill. If you can assist please use the numbers below.
Equity Bank Acc no. 1450164274483, under the name Jane Mwangi Medical Fund.
Alternatively, send anything on Mpesa paybill 596018, in the name of Jane Medical Fund.
SOURCE : The Star