On Thursday 28th May, Uliza Links had invited the gospel deejays to pay as a visit as we planned to do an interview that talked about the success of the Kenyan gospel industry and where it is heading. As early as 10 am Dj Soxxy was the first to arrive and after having a brief chat with him we were joined by DJ Krowbar who lead us in prayer before sitting down to wait for DJ Mo and DJ Sadic.
Story by Anita Chiama, Grace Owuor and Editor Eric Okoye.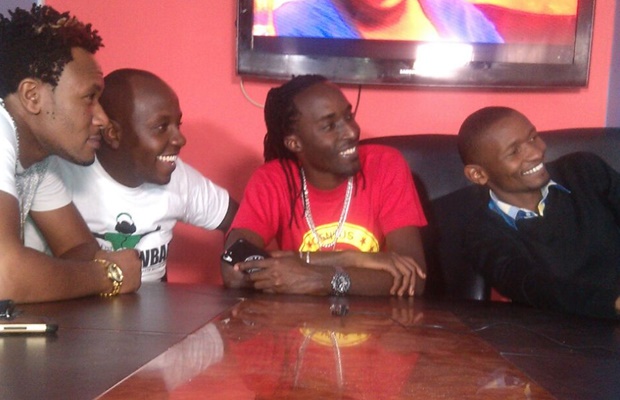 This would have been just a normal interview talking about how the industry has grown but it was also of great importance to talk about the issues affecting the gospel circle. It's a fact that the industry has been facing so many battles but these battles are mean't to challenge us as Christians and at the same time show us the right way to follow.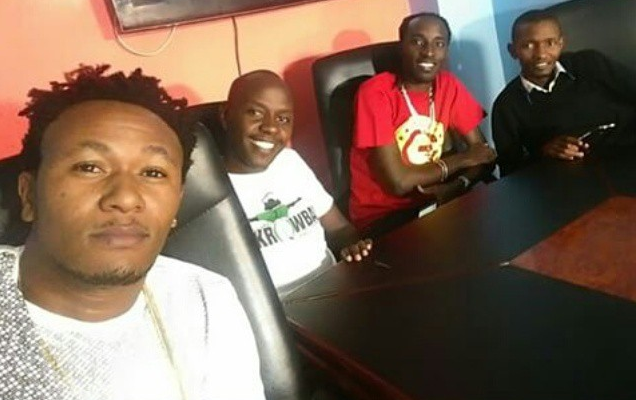 We were later joined by DJ Sadic and DJ Mo and after catching up on how work has been we start the interview :
DJ MO : "We were not that rich so I could not even afford a disc man so I used a DVD player from my home to push my passion for deejaying. My first gigs were at 'Kandamiza Ukimwi' programs in Rongai with much much support from my mother," DJ Mo states
DJ MO and Sadic's friendship goes way back as they were both part of Spinrage DJs.
DJ SOXXY is 13 years old in this ministry, beginning in Dagoretti High School as part of the worship team after which he was actively involved in missions, where he kicked off with deejaying. Unlike DJ Mo, Soxxy could afford a disc man and he used it with a bata shoe box full of CDs to kick start his career as a disc jockey. DJ Moz spotted the passion in him and invested in him.
This year marks a decade since the beginning of DJ Krowbar's deejaying ministry and it has been nothing short of an amazing experience for him. Born again in 2005, DJ Krowbar did not enter the disc jockey industry because he wanted to become one. He had actually joined Homeboyz Production classes with the dream of becoming a music producer but later found himself on the decks.
What do you think about content and why do some artistes complain that gospel deejays don't play their music ?
DJ Sadic : Deejaying is our ministry and it is our business, so we need to take it seriously. For the same reason that God requires the best of us, we also need to give our best. As deejays we can only play music with the right content and quality because God has called us to a higher office and we are HIS ambassadors.
What about Standards, Is there a standard set for music or gospel music at your work place ?
DJ KROWBAR : 80% of the songs we receive do not see the day of light and actually it's better that way, so that the 20% of songs on rotation, challenge the other artistes to maintain the required production standards set.
Another thing to state is that we are employed by our bosses at established media houses so we do not own the media houses where we work in. There are certain guidelines set that relate to content, maintaining viewership, quality and the target market of the show.
All the same, media is not a determining factor and as tv DJs we are not the key to any artistes success, we are only gatekeepers. As an artiste try and go out of your way and distribute your music taking an extra step to maintain the required standard.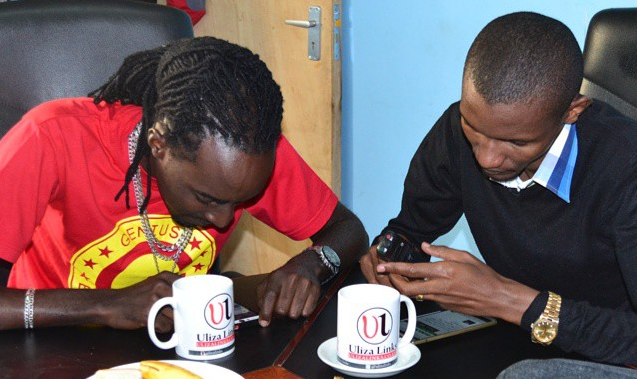 Should artistes depend on airplay alone to sell their music ?
DJ Sadic : If you go to Skiza you will find out that the top artiste who has the most downloads is not even from Nairobi or even being seen on tv. Its good for artistes to try and see how they can sell their music better rather than just depending on one or two platforms to generate income be it Groove Awards or Bonyeza.
How challenging is it being a deejay and how do you handle that ?
DJ SOXXY: Carry your office or music out with the professionalism it requires. Some artistes don't like correction, when we highlight the mistakes in their music; they take it personally when all we are doing is trying to help out.
How do you maintain your role as a gate keeper and ensure that you make decisions independently, such that you can decide NOT TO PLAY a song of a friend/relation who is close to you ? Keeping in mind that you have close relations or friends in the same industry ?
DJ MO : Personally I have many friends and being in the gospel industry of course friendship has to come first before anything. I have many friends whom I don't play their songs not because I have issues with them. I expect even when I leave my job on tv i will still be friends with them.
People do not know that we have a serious bond as deejays and we always sit down and preview new music that we get together. If one deejay says that he will not play a song then ultimately do not expect another deejay to go and play that song. If we agree to push a song we will do it as a team, and if we decide not to play it then we won't play it as a team. In deciding this we always focus on content, quality and as gatekeepers there are things we look out for before we play music with the view of where we want our Gospel music industry to go.
Is Kenyan gospel Music an INDUSTRY ? or ministry
Krowbar : Lets just say the truth, where music is now currently many corp-orates are coming on board to endorse artistes because many people are listening to gospel music. Clearly the angle that companies come in gospel music is on commercial viability.
Where we are now corporates like Safaricom can approach a deejay like Sadic and offer him a job as their deejay not because of anything but because they see that this guy is commercially viable.
The toughest question you are left with as an artiste/deejay is : "How much do you need so that we can make this happen".
It is so good to accept some realities on the ground.
We have concerns raised about mentor-ship and people blame the stakeholders for not mentoring artistes. Some artistes sing songs that make you wonder where they get their inspiration from. Is mentor-ship important ?
Krowbar : Mentor-ship is important but as a mentor its a challenge to go out of my way to mentor an artiste as I have to be guided by the spirit. Just like in the Bible, Jesus chose his 12 disciples and not the 12 disciples who chose him.
I will only mentor an artiste if I have purposed to mentor one.
DJ Soxxy : It is very hard to force yourself to mentor an artiste as there are people who don't want to be mentored. I echo what Krowbar says on mentor-ship because it needs to be a deliberate effort from the person who needs to be mentored. I can meet someone who might need me to mentor him/her and I might find myself wanting to walk with him.
Another thing to mention is that mentor-ship should not only be seen as music related as I can decide to walk with someone on other matters of life like devotion and not just music.
We have had issues with units what do you have to say ?
DJ Sadic : Many people have talked about these units and its an issue that we go through every time. People need to understand that we have many units but the body of Christ is one. The units and denominations be it System unit, Genius or K-Krew should not divide us but unite us because we represent the body of Christ. The moment we realize that these units are meant to unite us rather than divide us then we will gain a lot.
What needs to happen in the Kenyan gospel industry to achieve what GOD called us to do ?
DJ MO : First of all we need content and as we said before lets ensure that we have mentors. It's also important for artistes to know that we have new technology in media and as much as we want to push for content it's also critical that we push for better production and quality. Let's invest in what we do and in what we believe in so that we can reap great fruits.
Another thing is that whether you are a big artiste or small it's important to pray and keep GOD first. You might have the right quality , content and production but if you do not keep GOD 1st then you will not go far.
What message do you wish to give those artistes who are coming in the industry?
Krowbar : In gospel music it's better to consult those people who do it professionally. Don't just enter into a studio, rather consult with people who have been in the industry because if you don't you will get played and you will do most things wrong.
Make sure you know yourself before you enter here as not everyone is here for the right intentions. There are people who will use you and in the end you will get hurt. Not everyone walking saying Lord, Lord , Lord will be saved because there are people who are here for their own gains.
What do you have to say to those people who always raise concerns about the industry, are we going the right way?
DJ Sadic : It's true that some artistes want to take shortcuts and expect their music to go far. We need to invest in our gifts so that it will make room for us. We need to work on packaging ourselves as we are in an industry of music. Why shouldn't Chuchu get a deal on tv if Sarah Hassan can get one ?
Some people have entered the industry for the wrong reasons as Mercy Masika can take a four year break and still comeback with a hit. Others have released like 42 songs and not even one is being played or is a hit. So its good to know our calling and know the direction where our gospel music is going.
At the same time its good to say that focus has shifted in the industry as when we were starting there was no money as we used to do it because we were driven by passion. These days some artistes get in it because thy know that there is something in it for them in the end. We need to check on the reason why we do gospel music because if you are doing gospel music for passion you will last but if you are doing it for quick money then you won't survive.
The last message to upcoming artistes who have taken over the industry
Dj Soxxy : My challenge to upcoming artistes is to be anchored on the rock but geared to the time. If we are anchored to the rock GOD will lift us up as he will show us the right way not to please people but will show us favor.