Get ready for the 2nd edition of the biggest gospel social event to ever hit gospel the entertainment scene. The Gospel Hook-up will be holding its 2nd Edition dubbed The Love Edition where all fun loving Christians will get together, mingle, network, have lots of fun and basically just let lose.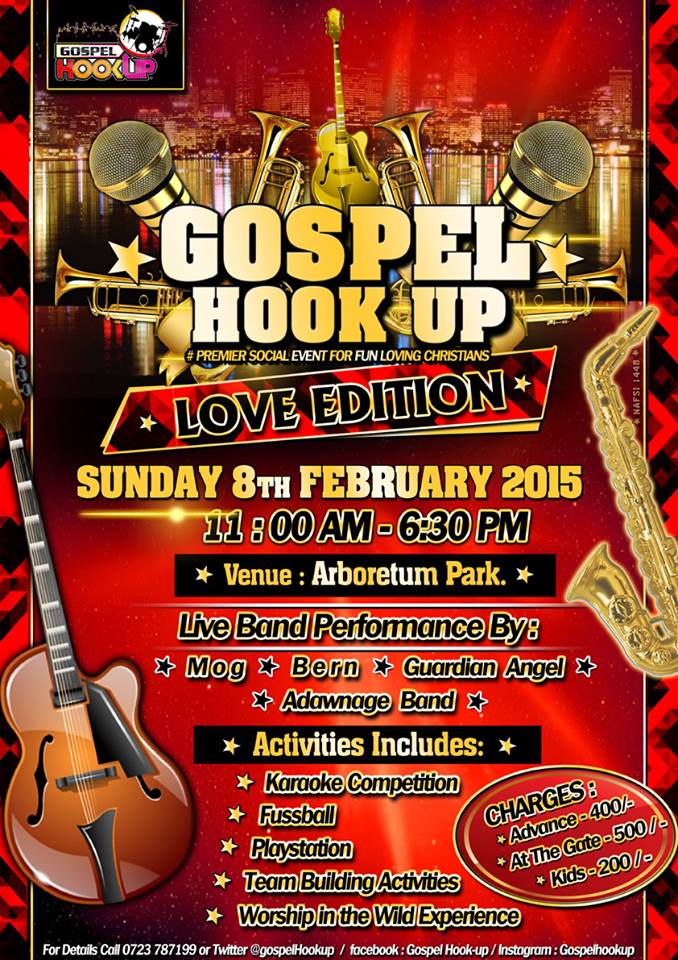 With the premier of Gospel Hook Up last November Christians and gospel lovers now have a hang out like their secular counterparts who have many social events.
Gospel personalities also have a placed hangout and mingle with their fans without any backlash.
The Gospel Hook-Up social event will also reach out to the vast majority who are un-churched using the language they understand best which is music, fun and hook-ups (mingling).
Apart from having fun, the event also hopes to effectively bridge the gap between company owners, employers and the potential employees. I believe we have so many young people who would attend such an event just to boost their chances of getting employed and that is why we have come up with team building activities to help people mingle as they have fun.
The date to mark is 8th of February 2015 at Arboretum Grounds from 11am -6:30 pm. The event will be headlined by the popular Gospel boy band MOG who will provide live quality mature music together with Adawnage , Bern and Guardian Angel.
We will have games like pool table, Fussball, PlayStation 4, Poker, Karaoke competition for friends and team building activities among other things.
The guest artists who will attend the event are Mercy Masika, SOC, Holydave, Ruth Matete, Ambassada, Hope Kid, Benachi, Dk, and Mr Seed with many other yet to confirm attendance.
For details call
0723787199