Life is not as easy as you see it and on today's feature we share an inspirational story of gospel artiste Gooya who we met  a few weeks ago on the  fateful day when Bishop Ben Bahati sadly passed on. He is known for his song Ni Yesu which brought his music to the limelight but something that people might not know is his journey. How did he become the Gooya that we know now ?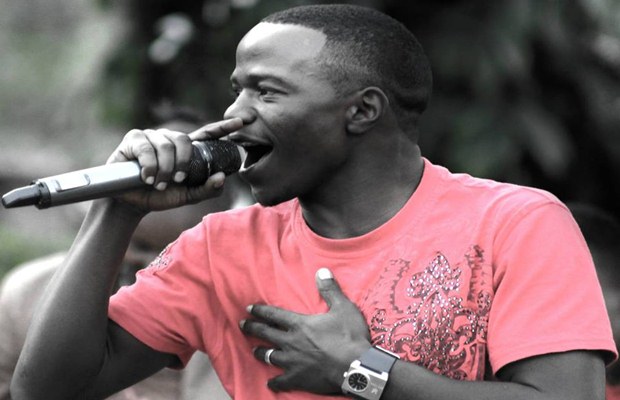 Read his story :
In 1982, Martin Guya, known in the music industry as Gooya, was born to his mother who had been believed to be barren. She had been praying for a baby for years and she and Gooya's father were surprised when one afternoon they heard a knock on their door and found that a man of God they had never met had come to find them. He had been on a prayer mountain and God had told him to go find Gooya's parents in Kamkunji slum in Eldoret and to tell them that God was going to give them a baby boy who would serve God. The man of God went straight to Kamkunji and asked around until people directed him to Gooya's parent's home. The man's name was Martin, and that is why when his prophesy came true, Gooya's parents named him Martin.
However, just because Gooya was born through prophesy and a supernatural event, it didn't make him a perfect child and his life was not easy. His father became an alcoholic and was very physically abusive to Gooya, his mother, and his younger sister. Eventually his father took a second wife and things became much worse. Though he had a good job, he refused to support Gooya's mom and her kids. The only time he came around was to beat them or to count his salary in front of them, only to tell them they wouldn't ever enjoy even one shilling from there. Then he would leave them with their hunger and their pain. Consequently, from a tender age Gooya was forced to become a street kid. As a very small boy he was forced to become the "man" of the house and support his mom and sister and make sure they all survived.
They often slept hungry and would survive for days on only hot water and salt. His mother did her best to care for her children, but Gooya's dad had forced her to quit her good paying job before he took the second wife, and because he had left them with nothing, there was no help or capital to start a small business to sustain them. Eventually they ended up homeless. Gooya's mother and sister managed to find a place to stay with friends, but the tiny mud house in the slum didn't have enough room for Gooya to stay there too, so he had to start sleeping on the streets of Eldoret. Gooya dropped out of school so that his mother could use the small money she got to send his sister to school because there wasn't enough to send them both.
Gooya's one comfort through all of the pain was music. He would go to a friend's house and listen to old school hip hop, mostly 2 Pac, for hours and hours and hours and eventually he started writing his own rap music. When he was barely a teenager he started competing in rap competitions in night clubs. He also got a job at a small movie house in the slum that paid him 200/= a week. He used the little money he won and made at the movie house to support his mom and sister to and to rent a small mud house of his own. The house he could afford was literally falling down and when it rained the house leaked all over on the inside, but it was still better than sleeping on the street.
Over time Gooya became well known in the Eldoret secular music scene. But his mom never forgot the prophesy over his life, that he would serve God. She kept praying for him, preaching to him, and sending men of God to preach to him. But Gooya had so much anger and bitterness in his heart and he was hardened to the Gospel. His interest was in the world and in worldly pursuits, even though he couldn't shake the emptiness and sadness he felt or the fact that he could find nothing to cure it.
One day in 1998 when Gooya was still a young teenager, he was walking home in the afternoon. The sun was shining and there wasn't a cloud in the sky. Then from nowhere, he was struck by lightning! It threw him up into the air and he saw fire all around him! He hit the ground and though he was in shock, he wasn't hurt in any way. However, 3 men who had been walking behind him on the path were hit by the same lightning and died on the spot! That incident really shook Gooya and caused him to ask himself a lot of questions. He wondered why God had spared his life when he was just a sinner like those other men who had died. He knew he wasn't more special than them or more deserving to live, so why had God spared him? God had gotten his attention, but he still wasn't ready to give Him his life. Around that same time, Gooya was talking to a secular DJ in one of the night clubs. The DJ, who wasn't born again and who lived a very worldly lifestyle, looked Gooya in the eyes and told him, "You know, you should get born again and serve Jesus with your gift." Gooya was shocked and didn't understand why someone like that would tell him such a crazy thing.
While God was doing all these things in Gooya's heart, one day in 1999, when Gooya was 17 years old, he unintentionally came upon a church crusade hosted by the late Bishop Ben Bahati. Bishop Ben was up on the stage singing reggae music – CHRISTIAN reggae music! Gooya was captivated and couldn't believe such a thing was allowed in church! Because of it he stayed and listened to Bishop's message of salvation and during the alter call found himself running up to the front with tears streaming down his face. That day he surrendered his life to Jesus and he has NEVER turned back since.
The next day Gooya was sitting in Bishop Ben's office, telling him his story and pouring out his heart. Bishop Ben looked at him straight in the eye, gave him a big hug, and told him that he loved him. Up to that point Gooya had never been hugged by a man and had never heard the words, "I love you." Through Bishop Ben becoming a true father to Gooya, he helped him heal from his anger towards his biological father and to find peace and compassion in his heart for him.
At first Gooya thought it would be more spiritual to abandon his musical gift. Rap was not widely accepted in churches back then so he poured himself into studying the Bible instead. Bishop Ben gave him the training and platform to preach in the church and to do mass evangelism. Gooya was passionate about those things and he had a God-given gift in those areas, but as time passed his passion for music could not be quenched. God started pouring Gospel songs into his heart and his creativity came alive like never before. He went to Bishop Ben for advice and Bishop encouraged him in his music gift. He helped Gooya record his first album and gave him a platform to minister through his music.
In 2003 Bishop Ben sent Gooya to Bible school where he met his wife. They were married in 2006 and since then, by God's grace, Gooya as recorded 8 full albums and has performed and had his music and videos internationally. His newest album, B.A.D. (Born Again Delivered) is set to be released January, 2015.
His latest single, Fuata Radar (Follow The Radar) is already out on radio stations and it's video can be seen on T.V. stations all over east Africa.