A memorial concert for the Garissa terrorist attack victims and the survivors will be held on Tuesday April 14, 2015 from 4pm-7pm at Freedom Corner, Uhuru Park.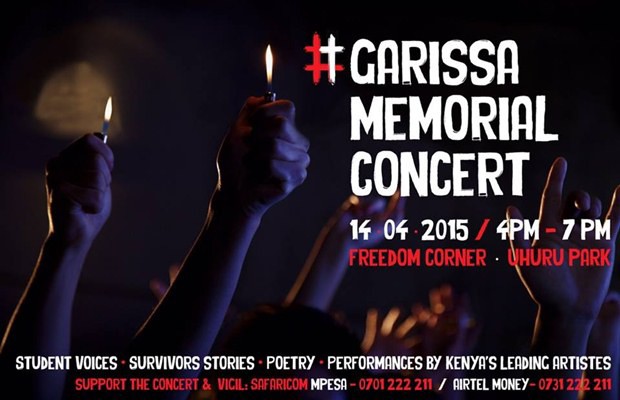 The event will include the survivor's testimonies, poetry and music performances by Kenya's leading artists.
This concert is being made possible by the generous contributions from concerned community members. The concert artists have been generously curated by Roots International's Rashid Jibril. Live Gigs Corporate AV Ltd have provided sound,stage and back line. Additional sponsors are continuously being added and all support is welcomed. This is a free concert and all of the artists are performing without compensation . The concert will conclude the ongoing vigil at Freedom Corner,Uhuru Park.
To support the concert logistics cost Safaricom Mpesa 0701 222 211 Airtel Money 0731 222 211.