When TV pundits begin their post-match analysis, keep an eye out for the Fijian team. Win or lose, they will gather to pray.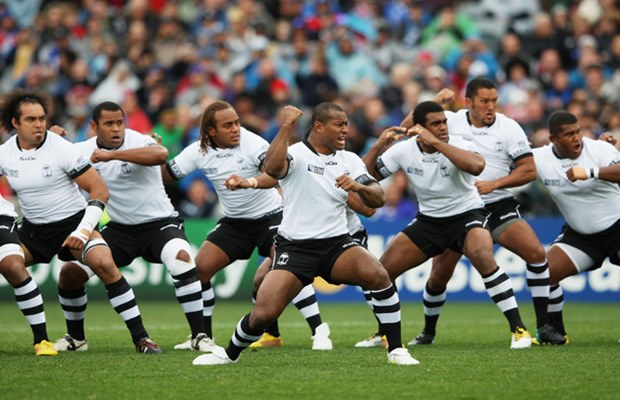 "We don't have the access to the financial doorways like a lot of these big teams do," 6'4″ captain, Akapusi Qera told me. "But we know that there is a God that we serve and he provides for us and is there for us."
Second row giant Leone Nakarawa agreed with his captain.
"We Fijians don't have large facilities like other teams have," the 6'6″ lock said. "But we know that being here is not from our strength but from God and its all God's plan that we are here.
"Even if we lose we know that there is something bigger."
This sense of perspective isn't the only thing that their faith lends them. Coach John McKee is from the rugby heartland of New Zealand and said the team's faith makes them incredibly strong as a unit.
"In terms of team building with our group, it's very easy to build that team unity. I have had experience with other teams where a long time can be spent on team building because the players have a more individualistic outlook."
"[Faith] helps keeps us together. It helps bond us as a team," Qera said.
Although McKee denies that any player will be out of pocket as a result of playing for Fiji, he admitted that the "player payments are very much smaller than for Australia, England or New Zealand".
"If it comes down to a financial decision, the player wouldn't play for Fiji," he said. "It is not a motivating factor for them."
None would dare to dismiss the England side as heathen. Nevertheless, the opening match will be a game of contrasts. Although Lancaster's England have moments of innovation, they are still a team reliant upon a strong set piece and planned moves. Fiji on the other hand have some of the most naturally talented players in the world who will play with panache and flair but lack the discipline and structure of England.