NAIROBI : Renown Bishop of House of Grace Church, Bishop David Muriithi, has demanded an apology from daily nation for linking him with the reported accident of Pastor Nganga. The Pastor who has raised House of Grace Church together with his wife has stated that he will be forced to take legal action against Daily Nation if they fail to remove the article and issue an apology to their readers.
Pastor Ngang'a has been on the spotlight for the past one week after his car was involved in a ghastly road acident that left one Ms. Njeri dead. Though Bishop Muriithi has been a friend to Pastor Nganga, even gracing his wedding ceremony previously, he reiterated that he has nothing to do with the alleged incident where it is reported that one of his cars was used to 'help the driver' get away from the scene.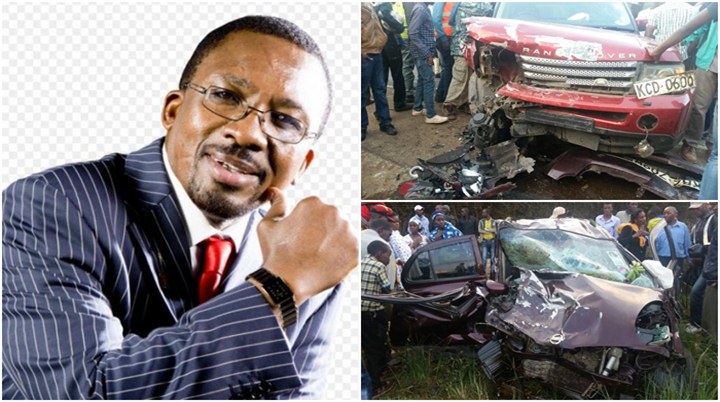 "I have read in today's Daily Nation allegation linking me to the ongoing saga and investigations on the accident that happened along Nairobi-Naivasha road. The accident resulted in the death of Mercy Njeri and injuries to her husband Martin Mbugua.
At the onset, I send my condolences to the family of Ms Njeri and wish quick recovery to Mr Mbugua. Further, I wish to state that while I have all the confidence with the police service to get to the bottom of the matter and unearth the person responsible for the accident, I want to distance myself from the allegation being peddled in the media that one of my car was used as get away at the scene. Nothing could be further from the truth. At all the said time of the accident, my personal cars were within my control and would not have been anywhere near the scene of the accident.
With nothing to hide on this matter, I call upon the investigating officers to release the registration numbers of the vehicles involved and the names of the owners, which are readily available from the registrar of motor vehicle to clear the matter.Linking my name to this unfortunate incidence has caused distress to myself, my family and the House of Grace congregation.
I, therefore, demand that the said statement be withdrawn and an apology issued failure to which I will seek legal redress. I wish to reassure the church, friends and entire body of Christ that I have nothing to do with this matter and I have contacted Nation media group to retract the libelous statement and that my innocence will soon be vindicated. God bless"
OPINION :
Whats your take on this matter ?