Dr. Myles Munroe is an internationally renowned bestselling author, lecturer, teacher, life coach, government consultant, and leadership mentor. He has traveled around the world training leaders in business, government, education, sports, media, and religion.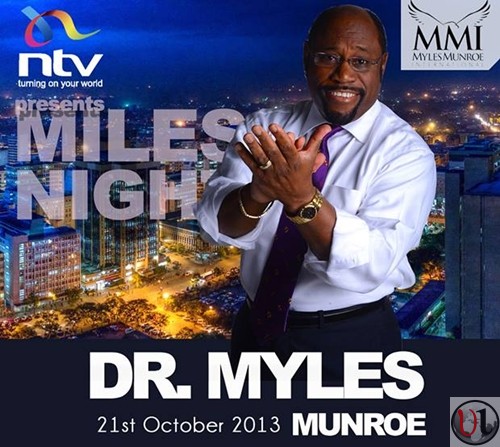 Dr. Myles will be hosting a Dr. Myles Night On October 21st at  the Safari Park   with a vision , "To transform Followers into Leaders and Leaders into agents of change and the maximization of individual potential.
The event dubbed "Miles Night" will be hosted on October 21ST 2013 at the Safari Park Hotel and the charges are Ksh.10,000/= 6;30pm to 11.00pm.
With all this you can still watch Dr. Myles for free at House of Grace Nairobi West on Sunday 20th October 13 at 4pm..
Here is the invitation