Kimathi is viewed as a national hero by the Kenyan people, and the government has erected a bronze statue of "Freedom Fighter Dedan Kimathi" on a graphite plinth, in central Nairobi. On February 18th 1957 is the day when the fallen hero Dedan Kimathi died.
On the anniversary of the day he was executed (11 December), in 2006, the statue of Kimathi was unveiled in Nairobi city centre. Kimathi, clad in military regalia, holds a rifle on the right hand and a dagger on the other, symbolising the last weapons he held in his struggle.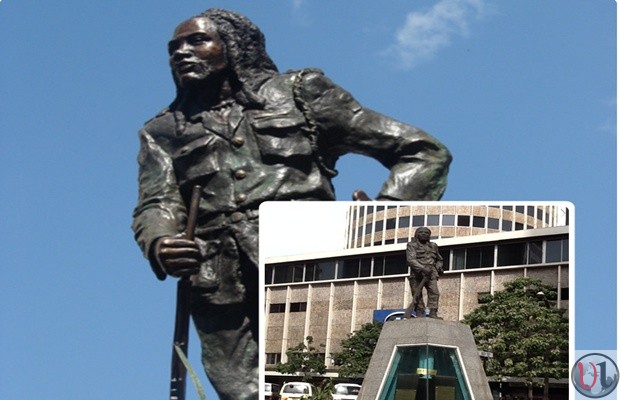 In around 1947 or 1948, whilst working in Ol Kalou, Kimathi came into close contact with members of the Kenya African Union. By 1950, he was secretary to the KAU branch at Ol Kalou, which was controlled by militant supporters of the Mau Mau cause. The Mau Mau began as the Land and Freedom Army, a militant Kikuyu army out to reclaim their land that they claimed had been gradually stripped from them by the British settlers. As the group's influence and membership widened it became a major threat to the colonialists.
Upon taking the oath of the Mau Mau, in 1951 he joined the Forty Group, which was the militant wing of the defunct Kikuyu Central Association. As branch secretary, Kimathi presided over oath taking. He believed strongly in compelling fellow Kikuyu by way of oath to bring solidarity to the independence movement. To achieve this, he administered beatings and carried a double-barrelled shotgun.[4] His activities with the group made him a target of the colonial government, and he was briefly arrested that same year but escaped with the help of local police. This marked the beginning of his violent uprising. He formed the Kenya Defence Council to co-ordinate all forest fighters in 1953.
In 1956, on 21 October exactly four years to the day since the start of the uprising, Kimathi was arrested in the Nyeri forest by a group led by Ian Henderson. His capture marked the end of the forest war. He was sentenced to death by a court presided by Chief Justice O'Connor and an all-black jury of Kenyans, while he was in a hospital bed at the General Hospital Nyeri. In the early morning of 18 February 1957 he was executed by the colonial government. The hanging took place at the Kamiti Maximum Security Prison.He was buried in an unmarked grave, and his burial site remains unknown.