Brian Ochieng Odhiambo is the medical worker who spent 18 hours in an ambulance attending to Alex Madaga, the road accident victim who was kept waiting because the Kenyatta National Hospital did not have an ICU bed for him.
Brian and Madaga's paths crossed on Monday October 5 at around 9pm.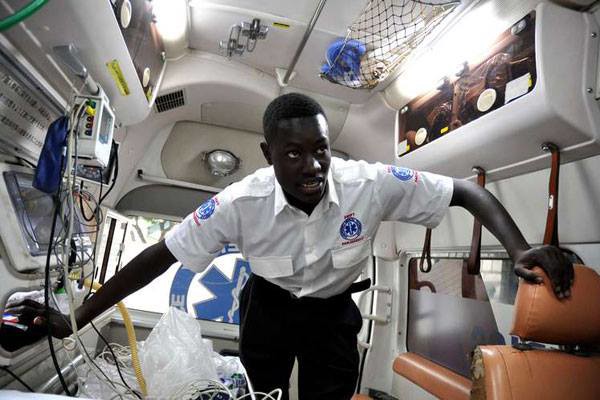 Brian is a student at St John Ambulance and works for Swift Paramedics Ambulance services based in Jamhuri Nairobi. His job at Swift is to handle emergency cases such as assisting victims of road crashes. "I had got into my shift at around 6pm and I was having supper when the call from Kikuyu Mission Hospital came through for the referral."
Kikuyu has no ICU services and, as such, a referral was unavoidable in Madaga's case because he was seriously injured when he was hit by a vehicle on Waiyaki Way, Nairobi, while on his way home.
"We dashed out of our base on Ngong Road and in about 20 minutes or so, we were at the casualty (at Kikuyu) and when I saw his injuries I knew we had to move fast," he said in an interview with the Daily Nation on Sunday evening.
Madaga was bleeding from the head and was not moving, but he was breathing on his own.
"He had been hit at the lower back of his head… He was stable and I knew he would survive if we got him to hospital for the critical care he required."
Brian and his team got Madaga into their ambulance and soon after, they were on their way to the Nairobi Women's Hospital at Adam's Arcade.
"We got there and they were willing to help him but they did not have an ICU bed," he said, confirming a statement made by the hospital last week that all its ICU beds were occupied and that was the only reason the nurses there could not take Madaga in.
The ambulance then left for Kenyatta National Hospital with Brian and Madaga's wife, Jessica Moraa, helping to stabilise the victim's breathing.
"We ensured that oxygen was going into his lungs during the drive, hoping that once we got to Kenyatta we would have him admitted."
On reaching KNH, however, their hopes were dashed again. Doctors said they did not have a place for the critically injured man because all their 21 ICU beds were fully occupied.
That left them with only two options. To seek help in another hospital or stay put and wait.
"I told our driver we would not risk leaving KNH to try different hospitals because of the condition of the patient. We had just given him primary care but he was in dire need of ICU (care) because of his injuries."
Brian, the ambulance driver and Ms Moraa took turns watching over Madaga as they ensured he had sufficient oxygen all the time.
"There was a nurse at KNH who was very considerate and even brought oxygen cylinders to boost our supply but we couldn't use them because they were not compatible with our ambulance," he recalled.
The clock struck 3am. Still no bed.
At 4am, Brian noticed that if they stayed for another hour, they would run out of oxygen.
"Seeing how Ms Moraa was crying and panicking, I would not tell them this. I asked the driver to drive to the nearest hospital to see if they would admit him".
They drove out of KNH to the Coptic Hospital on Ngong road. According to him, the hospital said it had an ICU bed but demanded Sh200,000 upfront for Madaga to be admitted.
"Ms Moraa begged them to take him in and she would bring the money but they refused. They didn't even look at the patient and so we had to leave."
Yesterday, the Coptic Hospital medical director, Dr S R Sakr, did not dispute that Madaga was taken there. However, he requested for a meeting today at the facility to respond to inquiries by the Nation team.
On leaving Coptic, the ambulance went back to Kikuyu Mission Hospital where the nurses were surprised to see them back.
"They received him back to the casualty as we waited for the second ambulance to come to Kikuyu. I asked that they bring the Advanced Critical Life Support Ambulance and additional personnel," said Brian.
They all got in the second ambulance and drove to the German Centre in Upper Hill where doctors performed a CT scan on Madaga. The results showed that he had internal bleeding on the left side of the brain and it was vital that he gets urgent treatment.
"I called KNH and like the previous night, they said there was no bed," said Brian.
The ambulance then drove to Ladnan Hospital, another private institution in Pangani.
"Here, they also asked for Sh200,000. They did not listen to the wailing Ms Moraa, who was kneeling at that point. It was nothing short of callousness. It was heartbreaking and this is a sight I cannot forget," the witness remembers.
Yesterday, the hospital's Managing Director, Dr Mohamed Abdi, said he was there when the patient was taken to the facility at around 10.30am Tuesday October 6.
"We didn't deny them admission," said Dr Abdi. "We were fully occupied, in fact, we still have the patients and some of them in the ICU have not yet paid bills running into millions. Of course we ask for payment or commitment to pay afterwards but it does not mean we will not attend to them like to give them oxygen cylinders when they need them."
That morning, however, the ambulance driver was left with no option but to head back to Kikuyu Mission Hospital, but according to Brian, the drive would have been highly risky given Madaga's condition.
"I told the driver to take us back to Kenyatta and camp outside their casualty until a bed was found. I wouldn't let him die here after surviving the whole cold night. We needed to save his life."
They got back to KNH at around 11am and began another long wait. By then, Madaga could only breathe with the help of a ventilator.
"I hope this incident is a wake-up call to the Ministry of Health over the state of health in the country," said Brian.
"It broke my heart when I heard he died. He would have survived."