Bethu and Highest Praise is a movement of young people ready and willing to proclaim the gospel of our Lord Jesus with boldness and power. Joel 2.28 begins…"I will pour out my spirit on all flesh…" Bethu dedicate their lives to the outpouring of the spirit and to a reality of heaven on earth with their desire being to see this generation living out the word of God and walking with Him.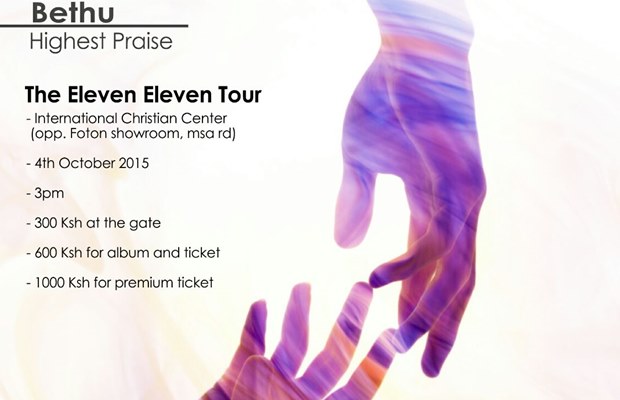 After 3 years, Bethu will get to share with you their journey and their reason for living. October 4th 2015 marks the genesis of this as they launch their album titled 'OUTCRY'.

The worship experience will start at 3pm at International Christian Centre along Mombasa Road, opposite Foton Showroom.
Gate charges: Sh300

There after, they will embark on a church-nation wide tour dubbed 'The Eleven Eleven Tour' and the first stop will be on the 18th of October at The Purpose Centre Church along Mombasa Road opposite Sameer Business Park.
Event starts at 3pm
Gate charges: Sh300