It is always important to keep GOD first in every little thing we do or take part on for he is the provider of everything we have and own this including the air we take in as oxygen and the good health we have.
Today Uliza links unveils 7 top athelets who at one point or the other have remembered to thank GOD after the completion of a race.
1. Usain Bolt – 100m, 200m – Jamaica
 After winning Olympic Gold in 2012 the worlds most fastest sprinter dedicated his victory to God, telling the media 'nothing would have been possible without Him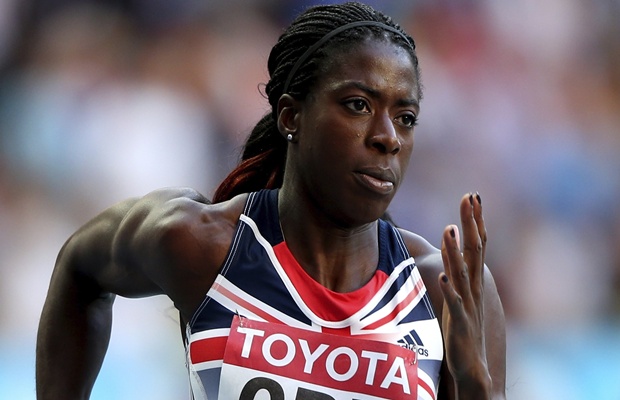 2. Christine Ohuruogu – 4x400m relay – England
30-year-old Olympic Gold and Silver medallist Ohuruogu  is open about her faith, and has given a number of interviews on the subject.
3. Tiffany Porter – Hurdles – England
Appearing in her first Commonwealth games, World Championship bronze medallist Porter says she "strives to be the best Christian that I can be", and that God has blessed her "to use athletics as my ministry."
4. Blessing Okagbare – Long jump / 100m – Nigeria
Blessing by name… committed Christian by nature. Nigeria's biggest track and field star is an Olympic and World Championship medallist, and speaks openly about her faith in Jesus. "I believe in God so much, and that faith keeps me going," she said told a Nigerian christian magazine – to whom she also talked about her love of worship, gospel music and Bible study.
5. Nick Willis – 1500m – New Zealand
The distance runner was his country's flag-bearer in the 2012 Olympics, but he's also unashamed to wave a banner of faith – and talk explicitly about Jesus, not just 'God'. On his sadly-now-defunct personal website, Willis published a testimony of how his relationship with Jesus had shaped his life, including the following lines:
"In October of 2003, I asked Jesus to forgive me from my sins against others and against God. I thanked Him for sacrificing his life, so that I could be forgiven and have the 100% guarantee of joining Him in Heaven when I die. Now, every day is an opportunity for me to thank Him. At this point in my life, I get to do this through the awesome experience of running with all my heart for gold."
6. Lucy van Dalen – 5000m – New Zealand
van Dalen is a committed Christian who is just as open about her faith: her twitter bio reads simply: "I love to run and I love the Lord!" Further investigation of her social media account reveals a constant stream of Bible verses and faith reflections; van Dalen is about as loud and proud about her faith as it's possible for a public figure to be.
7. Tera van Beilen – Breaststroke swimming – Canada
Having retained her Christian faith, it's now a driving force in her life and sport: "Believing in Jesus has had a huge impact on how I live my life," she says.