On this fateful day we would receive news that Angela Chibalonza passed on a ghastly road accident that left her husband lonely without a partner that he dearly loved. More so many Christians felt robbed of a soul that touched their hearts through gospel music and even worse she would miss her Album launch that was mean't to take place a week after her death.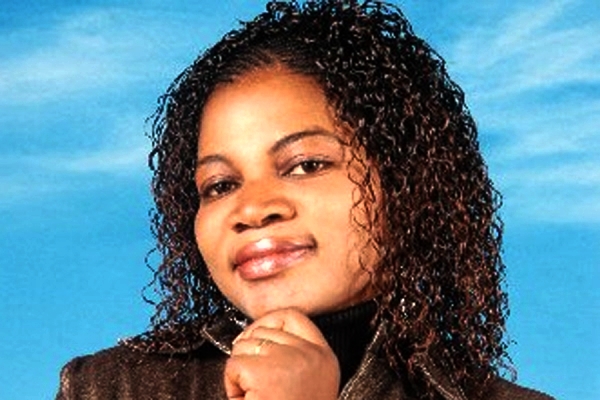 Angela Chibalonza was born on 26th November, 1976 in Congo. After completing her secondary school education in 1996, she came to Kenya in what she described as a call of God and to persue her music career.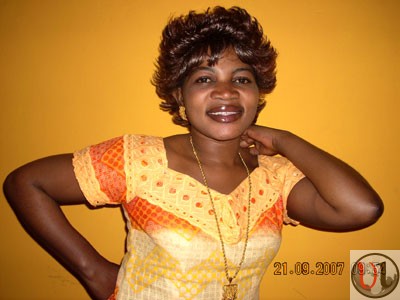 As a gospel artist, she released several albums such as;
-Nikuabudu
-Jina la Yesu – 1998
-Mwisho wa dunia – 1999
-Ninapotembea – 1999
-Nimekutana na Yesu (Latest)
She sang in Swahili, Congo &sometimes French.
She died in a road accident on Saturday morning, 22nd September, 2007 with her driver- Kennedy Oluoch &vocalist- Nimrod Makori. Their car rammed into a lorry along the Naivasha-Nairobi highway while they were returning to Nairobi from a performance at Egerton University in Njoro, where more than 100 students gave their lives to Christ.
Her death occured a week before releasing her latest album, Nimekutana na Yesu, scheduled to take place on 29th September, 2007 in Nairobi.
She left her four-year husband, Elisha Muliri, &their 9-month old baby.
The popular Congolese songwriter and gospel singer Angela Chibalonza was famous for her dynamic voice. Simply known as Chibalonza, the artist is a household name in Kenya, Uganda, Tanzania, Congo, Zambia, Mozambique, South Africa, and Zimbabwe.  Part of her widespread appeal was her ability to sing in several languages, including Kiswahili, Lingala, Ruganda and French are spoken.
"Chibalonza," said fan Samuel Wafula,"was an accomplished, gifted, and anointed gospel singer who has won solemn hearts through her famous gospel hits. I have been listening to her for the last ten years ever since she came to the helm light of gospel music in the country."
Chibalonza said her music was a reflection of her Christian faith.  She said she knew and received Jesus through singing. She said hearing gospel songs made her cry. Chibalonza said she felt her heart was touched by Jesus.
Angela Chibalonza was 40 years ago in the Congolese village of Braissele near Bukavu town, the second-born in a family of 11 children that included six boys and five girls. After attending local primary school, she continued on to high school and university.
When growing up she was greatly inspired by Congolese Mbilia Bel's soprano, called by National Geographic Africa's first transcontinental diva. Chibalonza turned to gospel music 1992 when she joined the university and became a Christian. She started profound singing at the university, and later at a Congolese Catholic Church where she became the choir leader.  From there, she joined the Pentecostal Church in Bukavu.
In 1992, she decided to leave the DRC for Kenya. Chibalonza denied that she left her homeland because of on-going violence, there.  Instead, she said her decision to relocate in Nairobi was a career-move.
Among the albums she recorded in the Kenyan capital are "Nakuabudu" (I Worship You), followed by "Jina La Yesu" (The Name of Jesus), "Mwisho wa dunia" (End of the World), "Ninapotembea" (As I Walk), "Imani yako" (Your Faith), "Nzambe Papa" (Father God), and "Yahwe Uhimidiwe" (Yahwe Exalted).  The songs "Ninatamani", "Nitampa nini", "Yahwee Uhimidiwe", "Jubilee", all received enormous airplay, on FM radio and television stations.
"Her music," said Ngiri Forty, a studio producer for Namkio Recording Studio in Kisumu, "included well defined Afro-beats blended with reggae lyrics. Her soulful vocals in the praise and worship style of music were rich and full-throttled. Chibalonza's songs were not only sweet to the ears, but the inspiring messages were known to send many into frenzy during Christian [concerts]."
Venturing into music was difficult – and Chibalonza said her family discouraged her from a singing career. She said her family punished her whenever she attended overnight prayer meetings.
In 2003, Chibalonza married her long time Congolese fiancée, Apostle Elisha Muliri, the founder of Shekinah International Ministries in Kenya.
Chibalonza sung prominently during National Prayer Day in Kenya, which is attended by the country's president Mwai Kibaki. She was scheduled to perform during the Africans Let's Worship concert, at the Nyayo National Stadium in Nairobi late October this year.   
Her passing came just days before launching her latest album, "Nimekutana na Yesu" (I Have Met Jesus) under the banner Furaha ya Kipawa (Joy of My Talent).
Husband Elisha said "God giveth and taketh away" – a prominent message Chibalonza conveyed through her music.
Gospel music producer Japheth Kassanga said it was an obstacle for gospel business considering that, her albums quickly made the best-selling and stayed long in the music industry.
"She acted as a wonderful role model for other gospel singers," said Elizabeth Keraro, a gospel singer in Kenya.  "She is a person to be remembered and adored. Her songs like Jubilee and Uhimidiwe would be our inspiring songs."
Music critics say Chibalonza's beautiful songs will continue to be heard on Kenyan radio, and in the minds of her fans.  
May her soul rest in peace- Amen!