At first it sounded as a joke for most Kenyans but now it has finally happened as CAK has shutdown the analogue signals of four tv stations i.e Citizen , NTV , KTN and Qtv.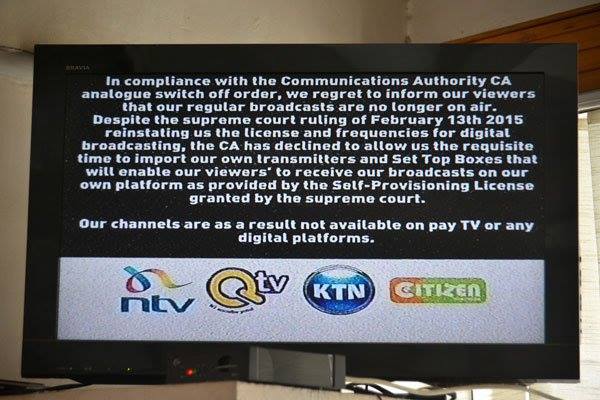 CAK forcefully shutdown the named tv stations signals on Saturday 14th after it had given them a warning on Friday evening in a directive submitted by CA director General Francis Wangusi.
"Any broadcaster still on analogue platform will be doing so illegally and the authority shall take regulatory action against them," said CA Director General Francis Wangusi on Friday.
The authority forced KTN, NTV, QTV and Citizen TV out of analogue broadcasting on Saturday afternoon, leaving over 90 per cent of Kenyans staring at blank screens. The broadcasters' analogue transmitters located in Limuru were shut down even before CA reinstated digital frequencies for the media houses.
Friday, a 7-judge bench ordered the authority to restore the frequencies which it had annulled following a complaint by pay TV providers Star Times and GoTV.
According to the Standard Digital, the switch off affects Nairobi and its environs whose migration was meant to take place on December 31. The second phase that was to be effective February 2 covers Mombasa, Malindi, Nyeri, Meru, Kisumu, Webuye, Kakamega, Kisii, Nakuru, Eldoret, Nyahururu (Nyadundo), Machakos, Narok and Loldiani (Rongai). The third phase, covering Garissa, Kitui, Lodwar, Lokichogio, Kapenguria, Kabarnet, Migori, Voi (Vuria), Mbwinzau/Kibwezi, Namanga and all other remaining sites, will take effect on March 30.
For now we can only wait and see what will take place next. You can watch K24 and KBC on digital platforms as they complied with the directive earlier.