A suspected gang of 5 members in Nigeria caught hiding cars in church premises for their nefarious activities.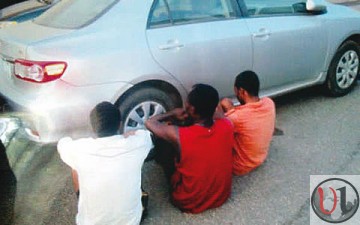 The gang who apparently without the use of guns mostly targets cars driven by women in the streets of Nigeria. In their mission they use their own car to hit the back of a car driven by a woman and when the woman comes out to check the extent of the damage costed immediately two members will rush to the woman's car quickly and without being noticed  drive off with it.
There after they drive the car to a Catholic church at Sangotedo in Nigeria where they park it without the knowledge of the parish priest. The gang leader being a member of the church knows that the church allows parking for at-least 3 hours which according to him was enough time for them to get a buyer and dispose of the car without attracting attention.
The police caught up with them and they were arrested.