This is what we call crazy Monday because a motor mechanic allegedly revealed that he is looking for a financially stable partner.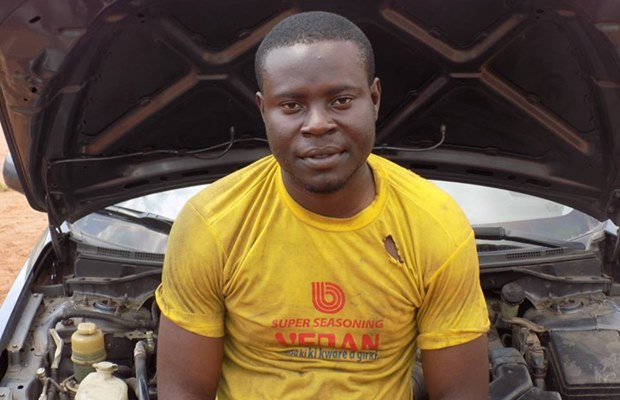 This did not go really well with many on social media as they shared how can one man be lazy to look for a bread winner when he should be working.
Samson Victor, a motor mechanic, reportedly came out on Humans of Abuja page stating that he is single and seriously looking for a financially stable partner.
"My name is Samson Victor, I am single and seriously searching for a life partner that can fend for me financially and also be respectful not minding that she is the bread winner. I am currently a motor mechanic."
Here are the comments that followed.
Maimuna Mustapha pls….. Free him…. He is just saying his mind…… Too bad ladies don't like lazy men….. Nevertheless I am also searching for Dangote…. Pls spread the word
Lala Gucci
Lala Gucci Someone has hacked Samson's account. How can a man who killed a lion with his bare hands be looking for a woman that will take care of him? And where is Delilah?
Ike Davies
Ike Davies Oh my…. Dude is a modafucker. Like seriously you want to be fed and respected. I see your destiny is doing press up in your village shrine, oniranu somebody.
Kevin Okereke Edward
Kevin Okereke Edward Whatever made Samson think he can't fend for himself and family as a motor mechanic is what i don't understand.
Must everyone be a CEO of a conglomerate before becoming a man of the house?
Beatrice Fuanpoe
Beatrice Fuanpoe Hmmmmmm 21st century man looking for a life partner that will help him financially…… Then what will d women look for now
Ebimo Stephen
Ebimo Stephen 4 Godsake why re u guyz criticizing him is it a crime 4 a women 2tk kia of a man???
Silifat Jimoh Priscilla I tire o,u want respect,u no get money and u no sabi talk,agbaya!
Chatt Sani
Chatt Sani U are nt serious. If she fend for u, you too will die 4 her abi?
Amadeus Havoc Ajges
Amadeus Havoc Ajges Dude if I was next to YOU I would have had Smacked on some Sense in your brain.The woman who will pick you will be soo desperate.And it is natural man!! a woman will never give you RESPECT if you cant even fend for yourself.Be a GOOD example to us men.
Adeymola Adeyemo
Adeymola Adeyemo Samson, why have you CHOSEN to look down on Yourself and Profession?
You can fend for your family or delegate to a Woman you want to fulfill that ROLE….See More

Modupe Akole Mary
Modupe Akole Mary No food for a lazy man

Akinola Ososanya
Akinola Ososanya From it name, Samson is synonymous to strength and victor; victory. With deligence ,dedication and Pls what are d secret of it robust cheek and radiating looks. I want to go personal.
But l don't want to get tempted u WL excel in ur God giving gift, so don't look down on itself and allow frustration to set on ur early life. U created to b a bread winner. Ur future is bright so be encouraged and change ur thinking
Collins Odhiambo
Collins Odhiambo Men here r pretending yet they also want ladies with money. Ladies why put uaself in a second class that u can only love someone with money and be fed. Be crias u pple,this man is not lazy he is working. He has shown us stng that men r still stereotipng and ladies here agrees 100 percent with that and no the other side want equality. My friend continue u will get dont be discouraged u hv said ua mind
Rebecca Ajoot
Rebecca Ajoot I am looking for an able bodied man and literate to take care of my house chores, my 4 dogs and ageing grandfather. Food and bedding provided. You will be treated with respect as long as u do yo job. Samson, would you be interested?
Kingsley Allen
Be a man nd hustle hard so u don't become a houseboy in ur own home bro!
Benard Kitili Kang'ola
Women will never love u without money,look for a sugar mummy.
Adisa Ayo Dele
Dont worry she will come 2 u verry soon.or did u think u will find a love in dis lyf never there is no love in dis world again if u have money women will love u but if u dont have money oga Ade go sleep im sorry. women of dis days dey are after money
Adams Mokaya
yyy is everyone criticizing and judjing this man he is sayn his heart he didint ask for critizim wat he wants was a woman so fry urself or even roast ur self for tokn ill and judjing him i knw no man will ever refuse a woman who is ready to spend on him but then ur here on social media sayn its bad
Clement Femi Aboderin
Clement Femi Aboderin Go and be serious with your vocation and she will be available for you to find.
Paulo Gucci Pabz Madola
Paulo Gucci Pabz Madola Nigerian "Mechanics"……you might soon find Love in Kenya, some…..Kenyan Ladies,will Tuck a Nigerian Mechanic under their Hood,Have Hope you will soon own your own Car.