Michelle Williams recently reunited with her Destiny's Child band mates Beyonce and Kelly Rowland as well as Solange Knowles to film the music video for her new up-tempo gospel track "Say Yes."
Fans were in hysterics on Tuesday in the streets on New Jersey after the ladies were spotted in Maplewood reportedly making their way to an undisclosed location to film a new video for Williams' new song, sources claim.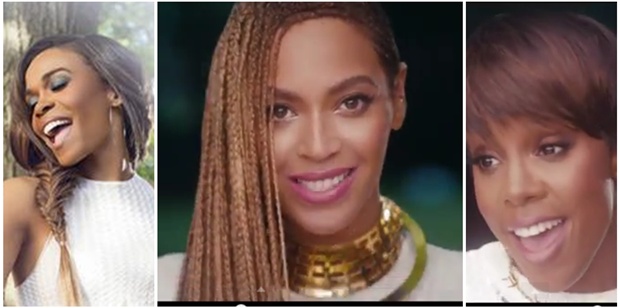 The 4:10-minute video, which is a remix on the Nigerian gospel hymn "When Jesus Says Yes," is off of Williams' latest album Journey to Freedom.
The up-tempo song blends West African gospel with contemporary dance music and features uplifting and inspiring lyrics about the power of faith.
"I'm not worried 'bout a thing / Cause I know You are guiding me / Where You lead me Lord I will go /
I have no fear cause I know who's in control," Williams sings.
"It's Destiny's Child time again," said Beyoncé. "This song is so inspiring and it's not enough music out there like this and I'm proud to be a part of it.
Michelle Added "We're still loving each other, supporting each other. They have no idea what it means to me and I think it's full circle. We're still rocking it out."
The Harmony Samuels-produced song will appear on Williams' third album Journey to Freedom, due September 9.