A concert to raise funds for the ailing renown pastor and mentor to many Christian singers , Bishop Ben Bahati, to be held today 12th October 2014 at Citam Valley Road.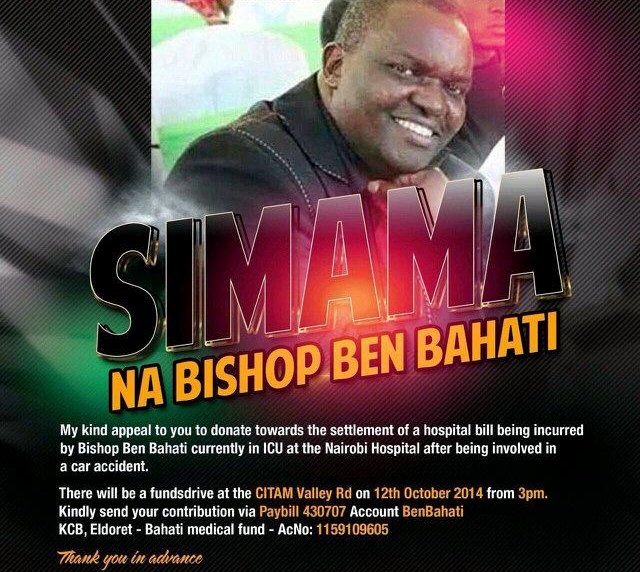 Bishop Ben Bahati's hospital bill is currently at 6 Million shillings and for this reason all Kenyan Christians are expected to visit Citam valley road in order to stand with this great man of success and his family  during this tough time. The concert will be starting at today 3pm at the same venue and if you might not make to the event kindly send on Mpesa Pay Bill: 430707 Account : Ben Bahati.
How It Happened
On 11th August 2014, Ben had road accident on his way from Nakuru to Eldoret at Burnt Forest, he was ejected from the car and his neck was broken at the c6- c7 vertebrae.
A neurosurgeon in Eldoret performed a procedure which included insertion of a metal plate in his neck.
He contracted a respiratory infection too and his throat & vocal cords have been under stress.
Ben was airlifted to Nairobi Hospital on 29th August 2014, and as of today, he is in ICU, in a comma, unconscious and paralyzed from his chest down.
Please continue to pray for Ben and for his wife, Mary Bahati and their 3 daughters, Grace, Abby and Teressa.
In total his medical bill currently stands at 6 million
Please send your donations to:
MPESA Paybill: 430707
Account: BenBahati
OR
Bahati Medical Fund
Account: 1159109605
Eldoret Branch.
Thank you all and God Bless you