It started with a photo of Octopizzo on the red carpet and later it was followed by him being given a platform to present the Groove Awards hip-hop song of the year award at the ceremony.

Octo went further to advise gospel artistes to sing for souls and little did he know that after the event concerns would be raised by gospel industry stakeholders who felt that Octopizzo was not supposed to stand on the podium and award a christian artiste.
Probably the person who should have been asked to comment was Kris Eeh Baba as he was the one who received that award and he even embraced Octopizzo as he gave him the award. Probably this was a moment of conviction for Octopizzo to turn back to the light but it seems the setting was just not the right one as the stakeholders stated.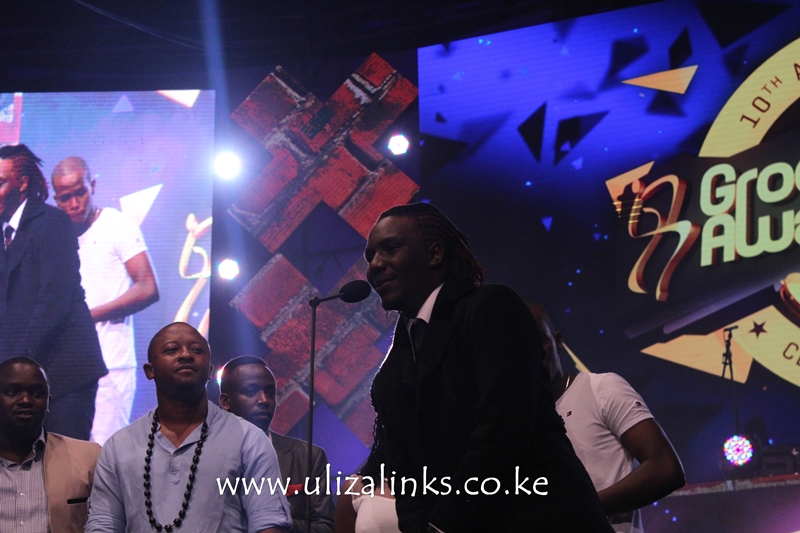 Kris Eeh Baba on his part contacted uliza links and stated that he was actually happy that Octopizzo presented the award to him because he not only presented the award but gave a profound word of advice.
I am happy @octopizzo presented me the award. Not because of the award….but because of the message he brought to the people. How many times does the bible have to remind us of the course and the reason for everything? Scriptures zilisema,"If you do not worship God, He will command the stones to do so." Octopizzo was in the right place with the right message and I quote him,"Gospel artists wanafaa kukumbuka kazi yao, you sing to win souls not to get fans." If any saved person has an issue with his message, I guess he/she should check his/her priorities.
He might not have been the instrument we expected God to use….but what do we know about God! His ways are higher than ours and His thinking is not our thinking. Moses was a Murderer, GOD USED HIM. David did countless sins, GOD USED HIM. Paul was the worst for persecuting the early Church, GOD USED HIM. OCTOPIZZO IS NO DIFFERENT.
My biggest prayer is Octo sees the light and to know God at a personal level. But with the current bashing for the "people of God"….hata kuokoka ni ngumu. Shame on us.