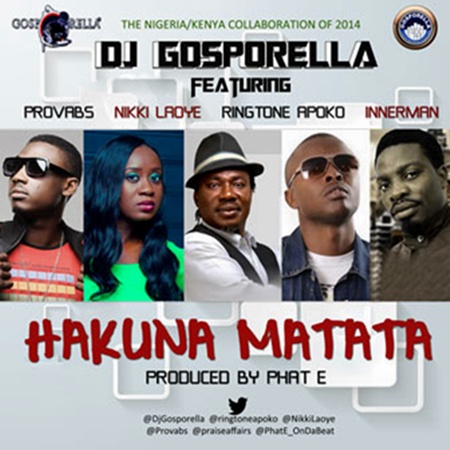 Award winning gospel artiste Ringtone Apoko known for his songs Jubilation , Pamela and Muziki ni Dawa has done a great collabo with 4 Nigerian gospel singers titled "Hakuna Matata". The song which has been done by DJ Gosporella from Nigeria has featured 3 other artistes who are Ringtone , Nikki Laoye, Inner Man and Provabs.
Dj Gosporella had an opportunity to share how the song came to be and he said :
"It was immediately after the 3rd edition of the annual Easter Sunday event, Gosporella Family Funfest. A whole lot of things had happened in the course of that event and Waoh! in reflection of how God pulled us through those trying times, I realised that there is actually no need to fret as God is true to His word.
When God said "Be anxious for nothing 'cause I care for you", I experienced the full reality of it so I had a brain wave and called some of my friends who had featured in the Funfest including our Kenyan import for the event, Ringtone Apoko, who was still savouring the hospitality of our great country and the result is Hakuna Matata. We intend to shoot an international video in Kenya and Nigeria soon to promote the song"
Download the song here