In a seemingly unscripted moment, the host of the 86th Academy Awards, Ellen DeGeneres, gathered some of the film industry's biggest stars for a selfie that broke Twitter — This became the most re-tweeted pic with over 3 million retweets.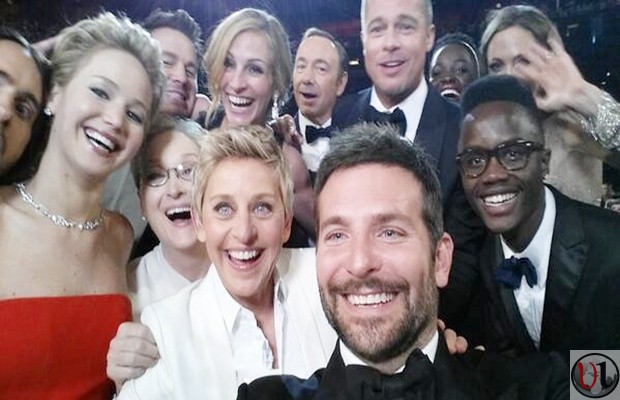 At first, it looked as if DeGeneres might try to accomplish this feat with just the two of them, but Streep insisted that her August Osage County costar and fellow nominee Julia Roberts get in the picture, too. Soon, DeGeneres was rounding up every celebrity in the general vicinity, including Brad Pitt, Angelina Jolie, Lupita Nyong'o, Kevin Spacey, Jennifer Lawrence, Jared Leto (who appeared to run in from the other side of the auditorium) and Bradley Cooper.
At 10:10 p.m. ET, just four minutes after DeGeneres' celeb-packed selfie hit Twitter, the service started faltering. Some of us — myself included — hit the "something's wrong" Twitter screen. Twitter reported a brief service issue atalmost the exact moment the super selfie went live. Fortunately, the service hiccup was short-lived.
The share counts for Degeneres's selfie skyrocketed immediately. 132,000 within a few minutes. After 10 minutes, it had 214,000 retweets.
At the time of writing, the celeb-a-palooza selfie had accrued almost 2.7 million retweets, a new Twitter record.
While we're still awaiting the final "reach" numbers from Nielsen, Twitter is clearly basking in the afterglow of a strong social media-saturated evening that won the second screen. There were more than 14.7 million Oscar telecast-related tweets during the live show, according to the company.
DeGeneres' super selfie helped propel her own Twitter account to new heights. According to Twitter, @TheEllenShow collected 47 times her typical number of new followers in a matter of hours.