Reverend Creflo Dollar, 53, is the head of the World Changers Church International, a Christian ministry centered around the gospel of prosperity.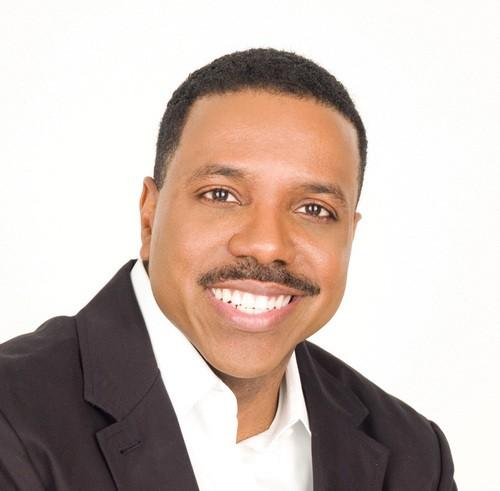 The televangelist, who is one of the most prominent African-American preachers in the United States, last week put a five-minute video up on his website asking for donations for a Gulfstream G650 – which claims to be the fastest plane ever built in civilian aviation – so that 'World Changers Church International can continue to blanket the globe with the Gospel of grace'.
News of the plea broke soon after it was posted, with snarky headlines aplenty, including You Better Fly Commercial, Creflo Dollar, Jesus Wants Me to Have This Jet and Creflo Dollar Needs a Fancy Private Jet.

The webpage, as of Sunday afternoon, had been shuttered, WXIA first reported. However, the faithful may still donate to the cause via the World Changers donation site, which remains open.
Among the billionaires who own a Gulfstream G650 are Steve Jobs' wife Lauren Powell Jobs, Wynn Resorts CEO Steve Wynn add Nike co-founder Phil Knight.
There is a long waiting list for the aircraft, with the next round of planes not due until 2017.
According to the Creflo Dollar Ministry's website: 'The ministry's current airplane, was built in 1984, purchased by the ministry in 1999 and has since logged four million miles.
'Recently on an overseas trip to a global conference, one of the engines failed.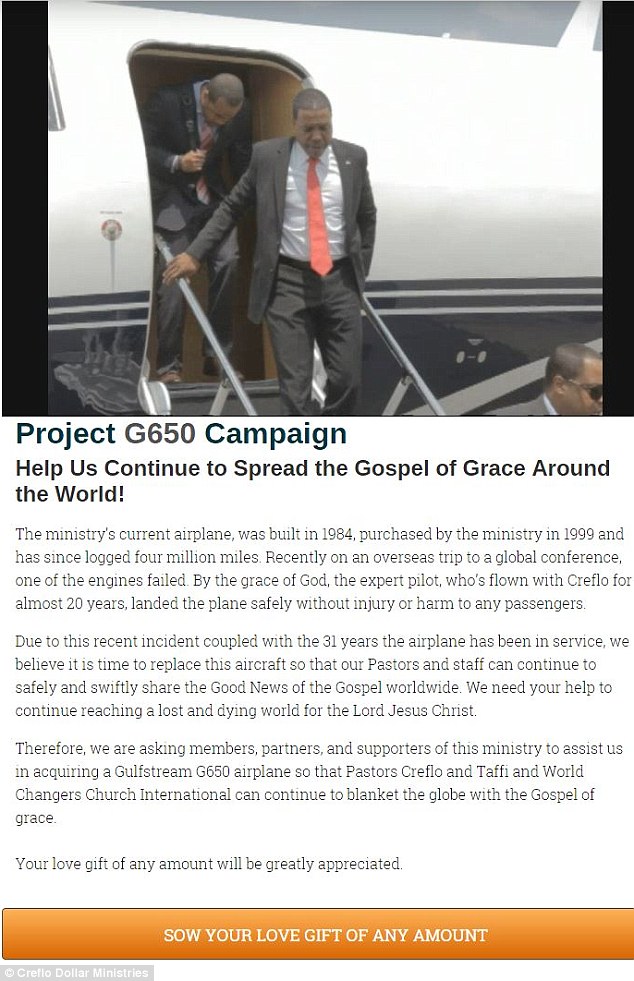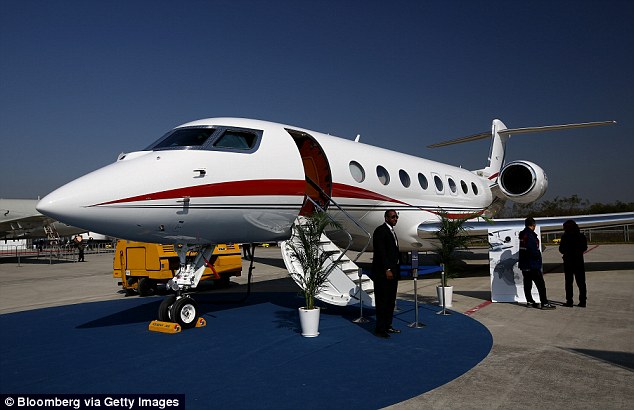 'By the grace of God, the expert pilot, who's flown with Creflo for almost 20 years, landed the plane safely without injury or harm to any passengers.'
The Christian Post first reported that Dollar insisted that he needs the jet to continue sharing the word of Jesus.
He preaches all over the world, but primarily works out of a 8,500-seat amphitheater in Atlanta called the 'World Dome', sending the sermons to churches all over the country via satellite.
The website pledge continued: 'Believe it or not, there are still millions of people on this planet who have never heard of Jesus Christ and know nothing of His greatness.'
'Our hearts desire to see precious lives changed and snatched out of darkness and thrust into His marvelous light!
'We need your help to continue reaching a lost and dying world for the Lord Jesus Christ," the appeal continued before asking supporters of the ministry to sow a $300 seed into the airplane fund, billed Project G650.'