Social media broke into happy mood after the success surgery of Baby Osinya who has a bullet lodged on his head. This same bullet that was in the baby's head was the same one that Killed his mother and everyone wished the best for Osinya who had stole their hearts.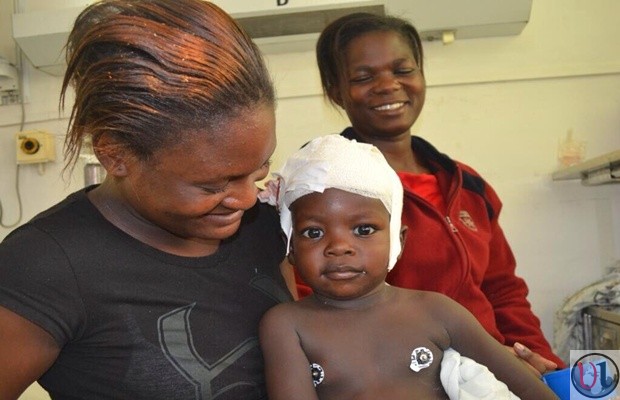 The surgery took place yesterday morning and like the birth of a new prince the same anxiety was experienced by many Kenyans.  Dr Mwangi was the team leader of five experts who operated on Satrin. The other neurosurgeons were doctors Julius Kiboi, Samuel Njiri, Mohan Nilesh and Chris Musau.
"Out of this tragic situation I know something big will come out of it. I see a young Mandela in this boy. He has gone through so much at a young age and to crown it all, he has been left motherless after the whole experience. Like Mandela, I know he will forgive the people who did this to him and killed his mother. This young man will one day unite Kenya," Dr Mwangi told The Standard Tuesday.
Come Tuesday, Satrin was wheeled to the theater at 8:00am. First he was put to sleep by the an anesthesiologist Dr George Njogu in readiness for the date with destiny. "When the child was unconscious, doctors made a standard occipital opening (opening of the skull), opened the brain, located the injury, and intricately dissected the brain and removed the killer bullet. It had made a 6.5cm deep hole," said Dr Mwangi. After the delicate and successful operation, the experts carefully closed up the wound. After the operation, Satrin woke up from the induced sleep in an upbeat mood.
Source – Standard