Our sister Size 8/Linet Munyali Muraya is one lady who made news when she chose Christ as her personal savior. Even us we met her when she got born again on her 1st performance as a gospel artiste and we couldn't believe that she was in gospel.
Now we have a revelation written by a guy who feels that Size 8 made his life new and changed by indirectly helping him in his career.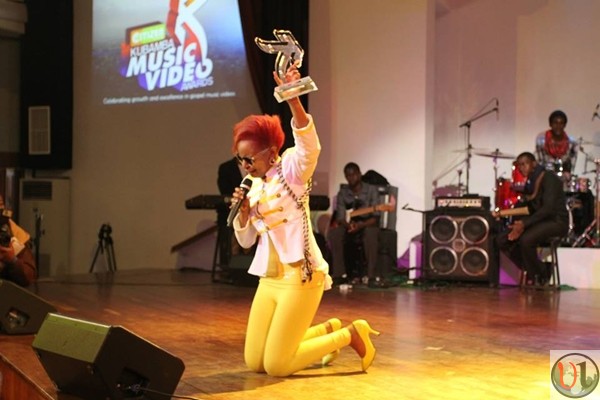 Back in the year 2012 when I was a fist year in Egerton University Njoro, Size 8 and Q-tasi were on an Airtel promo around campuses. I recall that very evening when getting back to my room when I bumped on a van with loud music bumping from its banker. I could hear my colleague students whispering that Size 8 had been noticed around and with my inquisitive nature, I did look around to try and locate her, luckily did so, saw her seated in a sleek Benz at the farthest end of that parking lot the promo was being done.
The other events did not really count to me, all I was determined to do is talk to her, I just felt I should grab this opportunity to have a one-on-one with a celebrity singer. It  seemed impossible, but, there came a chance when the Mc, Q-tasi asked whoever  thought he/she would have a minute of fame by rapping or singing to step forward and do it for some Airtel goodie.
I ain't really a bold dude but I gathered courage and did so, was given the Mic and I did justice to the moment that Size 8 lauded my rapping, gospel one that is. This is when Q-tasi requested her to give me "Vidonge" (dance with me), this was a dream to many who were left gaped in disbelief of my step, I appreciated this but walked away since I felt it wasn't right for me to do so basing on my Christian values. That evening, I got to be the talk in campus that my story got to each and every room, I became popular, for the right reason that is.
After the event before the two artists left campus, I managed to talk to Size 8 requesting her to introduce me to any producer in Nairobi so as to start my musical journey. Her answer was "wa gospel siwajui sana lakini nitajaribu, but, weza chukua namba then unikol ukija Nairobi, toka hapo naweza kusaidia ikiwa nitaweza" .She then gave me a number and insisted it were an office one, unfortunately, I lost it two days later after my phone got lost. I remember Q-Tasi giving me his contact too.
Nonetheless, this moment left a lasting impression in most students who were present during the event and I thank God for the whole encounter left a legacy in my name, one that saw my election as Director of Entertainment of the Students Union of Egerton University and above the Lady I partly owe my success to is now a minister of His word through song, I will gladly dance Mateke today. All these happened this year, the year of Jubilee.
Asante Size 8, asante sana na Mola akubariki.
Geofry Chemisto
Director Gender Sports and Entertainment
Egerton University Njoro.